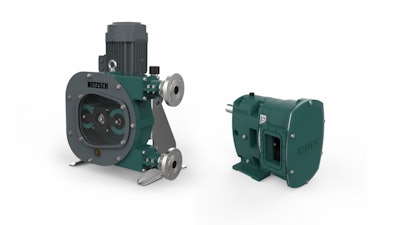 NETZSCH Pumps USA
NETZSCH Pumps USA (Exton, PA) will be launching its newest PERIPRO Peristaltic Pumps product line at booth 3629 at this year's WEFTEC.
These hose pumps feature a heavy duty construction for demanding applications, with large rollers for longer service life and lower energy consumption. These pumps are ideal for the following fluids:
Features include:
Multi-layered hose construction with precision ground diameters.
Energy savings up to 30%.
90% less lubricant when compared with shoe technology.
Full access from the front cover.
Lower lubrication level and failsafe drain.
The company will also display the TORNADO T1 Rotary Lobe Pump, the NEMO Full Service-in-Place (FSIP) Progressing Cavity Pump and the N.Mac Twin Shaft Grinder.
The TORNADO T1 Rotary Lobe Pump is a versatile solution for wastewater treatment applications requiring high flow at low to medium pressures in a small compact package in just about any orientation and installation.
The TORNADO T1 pump can handle a wide range of:
Viscosities
Solids
Temperature
Abrasion
Corrosive/acidic process fluids
Environments
NEMO Full Service-in-Place (FSIP) Progressing Cavity Pumps provide continuous, pressure-stable, gentle and pulsation free conveyance of almost any substance, including thick sludge and harsh chemicals, without being affected by fluctuations in pressure and viscosity.
NEMO pumps are optimally configured for each installation, with many different connections (hopper and flanged), from the world's smallest to the world's largest pumps, low/high flow, low/high pressure, and have the widest range of engineered joints. NEMO pumps have the lowest maintenance requirements in the industry.
The N.Mac Twin Shaft Grinder is ideal for:
Wastewater treatment
Biogas and biomass plants
Food
Animal processing
Other waste and industrial applications
Featuring cartridge cutting knives for quick and simple replacement and servicing, the N.Mac offers quenched lubricated mechanical seals for dry running capability.
The mechanical seal cartridge design—a leak free combination of mechanical seal and bearing cartridges—enables quick and simple replacement and servicing.
Available in both channel and inline (flanged) housing construction, the N.Mac can be installed into effluent channels or upstream from a pump.