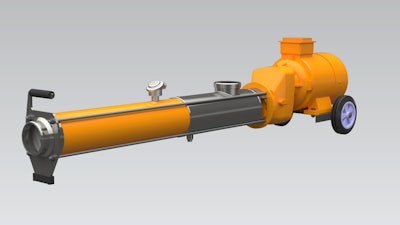 Circor
CIRCOR International, Inc. (Burlington, MA) announced the launch of the new ALLWEILER AEB-1F-ME mobile progressing cavity pump unit.
The pump unit is ideal for food and beverage market transfer and metering applications:
Wine
Wine mash
Fruits
Water
Dips
Sauce
Juice
Oils
The stator is always prepared for a dry run protection.
The suction casing interface to the mechanical seal housing has been optimized and now features a drain connection.
The stub shaft and mechanical seal housing dimensions offer easier assembly and disassembly of the patented clamp set connection between the pump and the geared motor.
Using the proven long pitch geometry of CIRCOR's OPTIFLOW series, the new AEB-1F-ME series is available in block design. Combined with the provided trolley it adds up to a mobile unit that can be used at different installations.
It is offered in a variety of sizes:
The AEB-1F-ME series replaces the AEB-E-ME series; spare parts for the prior model will continue to be available, including stators, joints and seals.