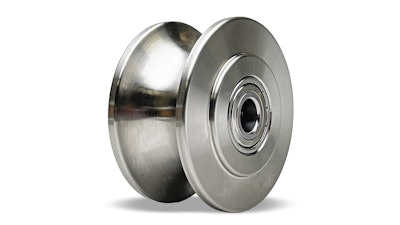 Hamilton Caster & Mfg. Co
Hamilton Caster & Mfg. Co (Hamilton, OH) announced the U-Grooved Track Wheels for easy rolling along straight or curvy tracks or pipes. U-Groove Wheels are ideal for industries where tubed tracks are commonplace, crane cables or pulleys and rolling gates and doors.
Features include:
Capacity range of 1000 – 7000 lbs.
Standard sizes ranging from 4 to 10-inch diameters
Three materials: steel, stainless steel and nylon
Variety of groove depths and widths
Each wheel fitted with precision-sealed ball bearings
Hamilton's Steel U-Grooved Wheels are machined from 1045 steel.
The Stainless Steel U-Grooves are machined from Type 303 stainless steel.
Hamilton's Nylast U-Groove wheels are made from solid cast high-performance nylon, specially formulated with finely divided particles of molybdenum disulfide (MoS2).
The U-Grooved Nylast Wheel is resistant to moisture and chemicals while providing necessary floor protection.
Optional accessories include:
Custom machined bores with keyway and/or set screws
Slick poly or rubber-coated treads
Hamilton can also machine custom sizes up to 25-inch diameters and other materials.