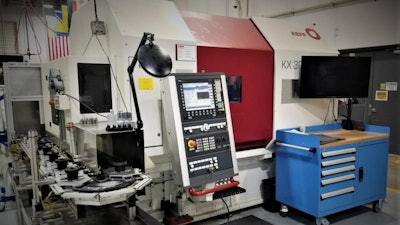 Bison Gear & Engineering Corp.
Bison Gear & Engineering Corp., (St. Charles, IL) added an Automated Gear Tooth Grinder to their gear hobbing department.
This machine:
Frees up capacity on four other machines.
Improves the quality of gear geometry.
Improves the cycle time.
Effectively grinds spur and helical gears.
This single piece of equipment will help make available nearly 40% more production time on four separate hobbing machines.
This new machine is also capable of grinding the gear tooth profile, leading to an exacting, .00005 inch precision.
Customers can also obtain increased gear motor efficiency from the fact that lower weight lubricant oils are needed when using a grind-finished gear. The Automated Gear Tooth Grinder produces a better finished product in a quarter of the time of a standard hobbing machine.