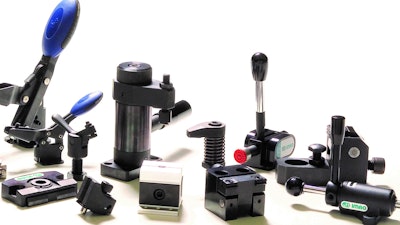 Fixtureworks
Fixtureworks (Fraser, MI) announced it bolstered its array of manual-style fixture clamps. Fixtureworks offers over 80 varieties of clamps, including:
Swing
Thrust
Side toggle
Pneumatic
Form holding
Pull
Strap
The product mix includes clamp accessories such as mounting brackets, adaptors, bars and caps.
In both mini and heavy-duty styles, the various clamp configurations provide clamping forces from as little as 2 lb. on a toggle switch to as much as 9,000 lb. on a side clamp and come with a variety of handle materials from steel to plastic.