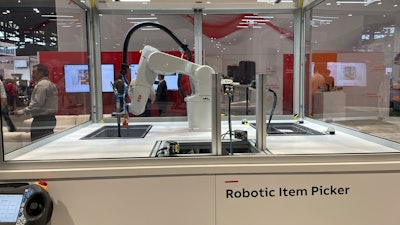 ABB
ABB (Zurich, Switzerland) demonstrated its Robotic Item Picker at Pack Expo 2022. The Item Picker helps customers automate order picking and sorter induction operations.
Target industries and applications include system integrators serving e-commerce, logistics and healthcare, consumer products, end customers (3PL, eCommerce, Fulfillment Centers, etc.) and order picking, replenishment, receipt picking, fashion sorter equipping.
The Item Picker includes:
Robot
Robot controller
Suction gripper
Machine vision sensor and software
ABB's internally developed AI Solution provides:
Accuracy in picking items from unstructured scenery
Pick rates up to 1,500 items per hour (peak)
Software that allows the robot to learn and adapt to a wide variety of items
Pre-integrated robotic item picking system
High throughput, robust solution that adapts to a changing item mix
Provides high picking quality 99%-plus
User-friendly application control configuration and parametrization for integrators
The Robotic Item Picker is scheduled to be officially launched at end of November.