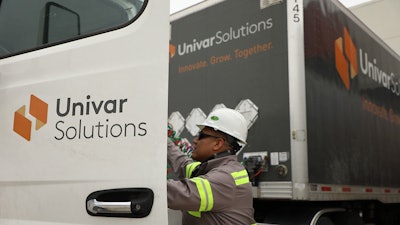 Univar
Private equity firm Apollo Global Management is taking Univar Solutions Inc. private in a deal worth about $8.1 billion.
Shareholders of Univar, which deals with specialty chemicals and ingredients distribution, will receive $36.15 per share in cash.
The Downers Grove, Illinois-based company's stock jumped more than 12% before the market open on Tuesday.
Univar will continue to operate under its name and brand.
A minority investment is being made by a wholly owned subsidiary of the Abu Dhabi Investment Authority. The deal is not subject to a financing condition.
Univar's board has approved the transaction, which is targeted to close in the second half of the year. It still needs approval from Univar shareholders.
Once the deal closes, Univar will no longer trade on the New York Stock Exchange.