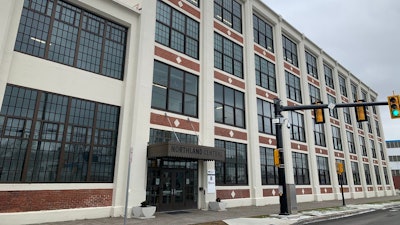 Office of Mayor Byron W. Brown (Twitter)
A California maker of advanced furnaces for metals processing will shift the vast majority of its operations more than 2,600 miles to the east, officials announced last week.
Retech Systems, located about 100 miles north of San Francisco, was acquired by Polish conglomerate SECO/Warwick Group nearly a decade ago, and its parent company had announced plans to move most of Retech's manufacturing work to Poland in 2018. Instead, according to The Buffalo News, Retech will now set up shop in western New York by early summer.
The company signed a lease for more than 10 years at an industrial campus on Buffalo's east side and will bring 36 employees over from California, the paper reported. Retech hopes to more than double its staff to about 80 workers in coming years.
Retech officials said Buffalo offered proximity to both its customer base and to manufacturing and engineering talent from nearby colleges and universities.
"We were interested in someplace that was putting an investment in and trying to bring in outside companies," company president Earl Good told the News. "This just happened to be a good fit."
Retech makes vacuum and cold-hearth melting furnaces, which utilize electron beam, plasma and cold wall induction technologies to melt and cast titanium, nickel, alloys and rare earth metals for use by medical, defense and aerospace manufacturers — including, the News noted, Boeing and Airbus.
The company first established a presence in western New York with an office in the suburb of Williamsville.
Retech plans to maintain a small office in its current home of Ukiah, Calif.
Empire State Development Corp., New York's economic development agency, will allocate up to $500,000 in tax credits, provided Retech meets its hiring goals, and the Buffalo Urban Development Corp. plans to make nearly $540,000 worth of renovations to the Northland Central complex.