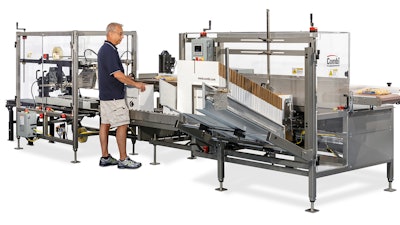 SupplyOne
The business challenges of the past few years — labor shortages, supply chain disruptions and inflation — have accelerated the long-term trend toward the automation of packaging operations.
All types of manufacturers and distributors, including food and beverage, pharmaceuticals, automotive and e-commerce companies, are turning to packaging automation to ease pressures on their business and their employees.
Evolving Packaging Technology
Automation solutions range from fundamental capabilities that have been used for decades, such as stretch wrapping, case erecting and sealing, coding and labeling, bagging and shrink wrapping to industrial robots and autonomous systems that efficiently perform pick and place, boxing and palletizing.
The technology is evolving, with sensors and machine vision systems that can outperform human capabilities, touchscreen controls that are easier to learn and easier to use and communications capabilities (including IoT) that facilitate remote system monitoring, preventative maintenance and performance analysis.
But the rapid acceleration in the adoption of automation tends to be driven more by business needs and the current economic conditions than by advancements in technology. The return on investment can be the highest when manual processes are replaced by relatively mature automation solutions.
The challenges and opportunities vary by industry sector. Labor shortages have impacted companies of all types and sizes and labor-saving automation often becomes a business imperative. For some companies, the main driver of packaging automation is the need for higher throughput, to compensate for the long lead times caused by supply chain disruptions or to scale up production in response to spikes in market demand.
Benefits of Packaging Automation
Overcoming Labor Challenges. While the pure cost of labor has always been a key driver towards increased automation, labor reallocation within operations has become even more critical in today's world. Three years into the pandemic, businesses are still struggling to find available, reliable labor with the baseline skills needed to operate their shipping and manufacturing facilities and keep operations running smoothly due in the event of employee absences.
Productivity and Flexibility. Automated packaging machinery is much faster than manual packaging. The speed accelerates throughput and provides much-needed flexibility – think quicker changeovers and responsiveness to volatile demand spikes. Packaging lines can be optimized with the right expertise to reduce bottlenecks and improve the flow of packaging and packaged products through manufacturing and distribution facilities.
Transportation Costs. Fuel and related transportation costs are increasingly influencing the decision to automate packaging. The right packaging equipment can provide the flexibility needed to downsize materials to reduce dimensional weight. Lighter packages mean lower freight costs. Even as inflation results in higher material costs, businesses can achieve a reasonable or even aggressive rate of return on their automation equipment investments if packaging setups result in more items being able to ship at one time or when a product goes out the door at higher speeds — sometimes as much as three times higher.
Quality Control. Packaging automation also plays a critical role in quality control. Vision systems are very effective in detecting defects and eliminating waste, considerations that are foundational to companies pursuing sustainability goals and ESG requirements. Automated systems also facilitate traceability and data-driven manufacturing processes.
Safety. Manual packaging is repetitive and can cause employee fatigue and repetitive stress injuries. A safer work environment also improves employee satisfaction and retention which helps to mitigate labor shortages. In the food industry, automatic packaging also reduces the risk of food contamination.
ROI for Packaging Automation
When implementing a packaging automation solution, whether choosing standalone packaging equipment or installing a complete packaging automation line, the machinery should be ideally suited to the specific application, as well as the company's particular operational, financial and marketing objectives.
For example, a snack producer which sells natural beef jerky to supermarket chains could not keep up with customer demand. Employees manually weighed and bagged the product, then labeled, code-dated each bag and inserted a desiccant packet, all by hand. The 10-person team could process a maximum of 4000 lbs per week. This created a dilemma when a large supermarket chain offered a contract to 8000 lbs per week.
After investigating a number of possible solutions, the company called in SupplyOne to provide a complete overhaul of its packaging operations. SupplyOne designed and supplied pre-printed bags and installed an ink jet system to automatically print the freshness date, thereby eliminating several manual steps in the packaging operation, with the side benefit of providing more appealing packaging for the retail consumer.
A 10-head combination scale was also installed. It can fill one bag every 3-4 seconds at an accuracy of ± 0.1 gram and automatically insert a desiccant pack. Previously, overfills were as much as a half-ounce per bag at $32 per pound. Two people can now weigh and package jerky three times faster than the 10 people who previously did the work.
Production was doubled using one-fifth of the labor, saving $320,000 in direct labor costs annually. The automation solution cost $135,000, paying for itself in five months.
Wide Range of Automation Solutions
A wide range of automation solutions are available for each of the three types of packaging: primary, secondary and end-of-line packaging.
Primary packaging, also known as retail packaging or consumer packaging, is directly in contact with the product itself. The primary packaging machinery is located at the beginning of the packaging line. Examples of automated and semi-automated primary machinery include case erectors, orienteers, fillers, bagging machines, shrink wrappers, tray sealers, vacuum sealers and labelers.
Secondary packaging equipment packs multiple individual packages into a larger carton or item bundling. Case packers, stretch wrappers, protective packaging equipment and shrink wrappers are typical examples of secondary equipment.
As the term suggests, end-of-line equipment is used to prepare packages for transportation and storage and includes conveyors and pallet wrappers to name a few.
The Bottom Line
The return on investment for packaging automation has become increasingly favorable as companies respond to labor shortages, supply chain disruptions and inflation. Automation enhances profitability in several ways: it can lower expenses by reducing labor, waste and transportation costs and it can increase revenues, by expanding throughput and providing the flexibility to respond to spikes in demand and new market opportunities. Moreover, packaging automation makes companies more resilient to labor and supply chain challenges, to the benefit of customers and investors.