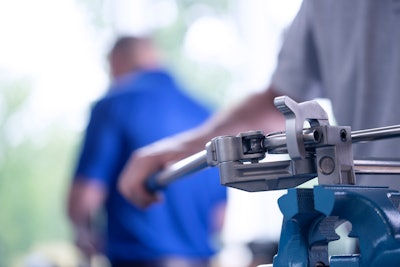 Designing and assembling a new fluid system or replacing components in an existing one is a complicated process that requires a thoughtful approach. One important decision to make during the process is whether to use stainless steel tubing or pipe for particular applications. And part of that decision will involve how you will route those materials for reliable, efficient, and leak-tight system flow.
In many instances, tubing can help solve some of these potential challenges. Tubing can be easily bent, which allows operators to create more intricate and efficient fluid system designs while minimizing connection points that would be necessary with pipe that could lead to leaks (Figure 1). And unlike pipe elbows, bent tubing does not impart the same turbulence to the media that flows through it. In addition, tubing is generally lighter than pipe, making it easier to handle and often requiring fewer external supports.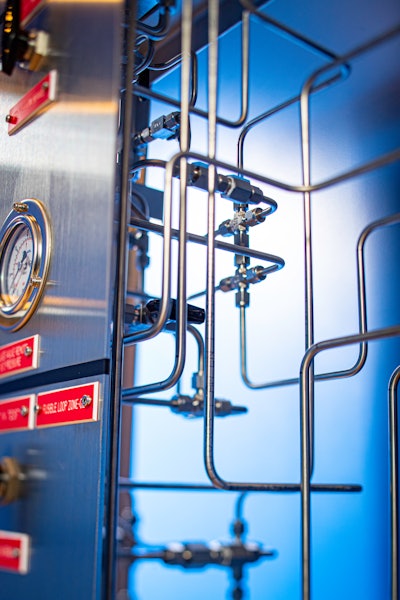 Tube bending is a learned skill, but once mastered, it will actively benefit the overall system (Figure 2).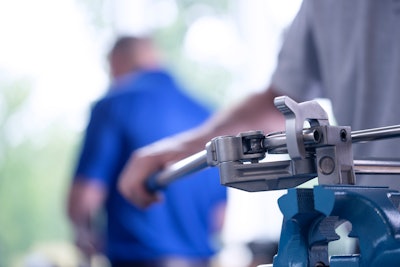 When to Bend Tubing
Before you bend a single tube, make a plan ahead of time for proper fluid system design and assembly. The goal is always to transport liquids or gases from one point to another as efficiently as possible without interfering with the rest of the system. As you design your fluid system, it is important to decide ahead of time how directional changes will be handled, whether that is by bending the tubing itself or by connecting separate lengths of tubing with high-quality fittings.
Simple 90-degree direction changes are often prime candidates for bent tubing. Tube bends are also often a good choice when fluid lines must change directions more than once. For example, the use of two 90-degree bends made in the shape of a "U" or a 180-degree loop allow tubing to be bottomed into fittings at the same time, which will greatly aid initial installation, as well as future maintenance (Figure 3). The use of a series of 30- or 45-degree bends to create offsets offer an easy solution where a change in centerline is required to avoid another object or to provide access to a maintenance panel or control. Bending is also commonly used when several lines are installed side by side and must change direction in close proximity to each other. More advanced applications may also require rolling or complex offsets, where the centerline must be adjusted in multiple locations or planes; although, such applications require more experience to execute.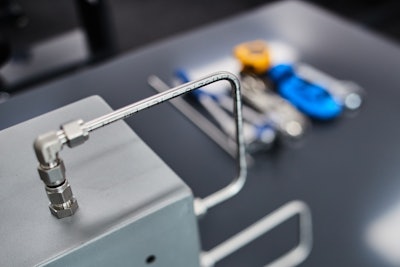 The choice between making a bend or installing fittings really requires a full understanding of the specific situation. While bending is frequently a valid option for directional changes, you will not be able to bend tubing in all instances. For example, very tight applications. To maintain the safety of the tube fitting, there must be a minimum length of tubing to allow the tube to be installed into the fitting. If that minimum length is not available, it makes more sense to use fittings for close directional changes. Another instance when fittings make more sense is when you need to make a complex bend that is outside your area of expertise.
It is also critical to make high-quality bends, using the right equipment and following best practices.
Applying the Art of Tube Bending
If you have chosen to use bent tubing in your fluid systems, the next step is making sure you understand how to do it properly. Tube bending is equal parts skill and art and requires technicians to think in three dimensions to bring designs on paper to life.
At a minimum, operators should understand the proper use of a tube bender and other equipment to produce accurate, quality bends (Figure 4). The following two videos offer technicians an overview of best tube bending practices that will help them avoid making common mistakes that could affect the integrity of even simple bends, which wastes time, labor, and money.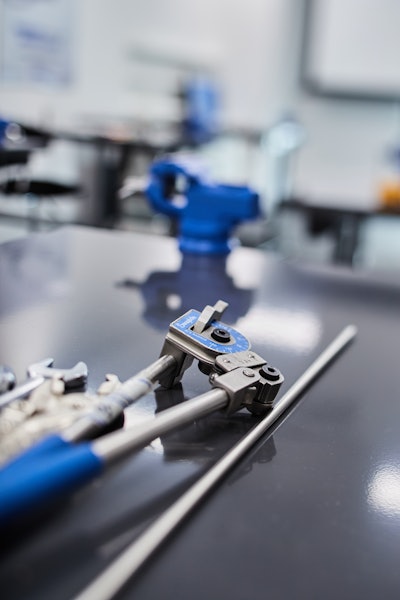 In the first video, technicians will learn how to use a hand tube bender to make accurate and efficient 90-degree and 180-degree bends:
This second video contains a step-by-step explanation about how to use a benchtop tube bender to provide accurate, repeatable, high-quality bends in most tubing.
In the end, practice and experience are the most effective ways to learn how to create quality tube bends – particularly more advanced ones. If you are expecting to make bending tubes a regular part of your duties, it may make sense to attend a training course to acquire the practical knowledge necessary to make the process a success (Figure 5). Whether you need training on the basics or are looking for a more advanced course to upgrade your skills, reaching out to your tubing or fluid system component supplier is the first step toward enhancing your tube bending abilities.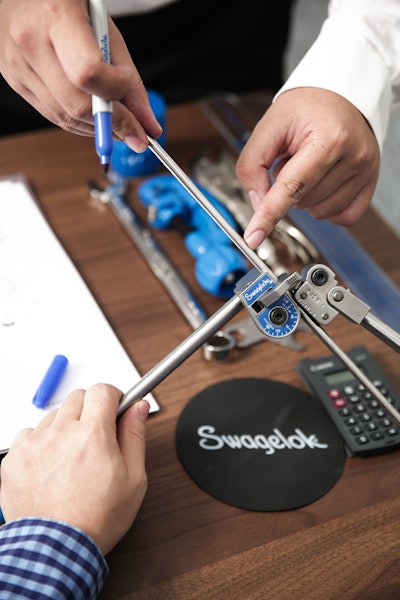 An original version of this article appeared on the Swagelok Reference Point blog here: www.swagelok.com/en/blog/bent-tube-equipment-training.
About the Author

Mike Gagel is Strategic Services Specialist for Swagelok Pittsburgh and Trainer, Advanced Tube Bending for Swagelok Company.