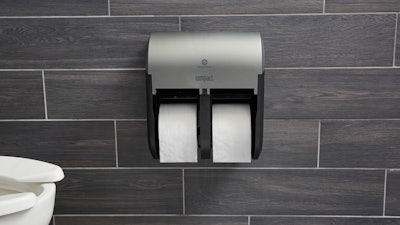 GP Pro
It's no secret there's a growing labor shortage within the U.S. manufacturing industry. In fact, some studies suggest that as a result of baby boomers retiring and general growth within the market, 4.6 million manufacturing jobs will need to be filled between now and 2028. On top of that, studies also show that 56 percent of blue-collar workers are looking for a new job.
So how can manufacturing businesses attract qualified job candidates and reduce turnover? According to a 2017 Gallup report on the state of the American workplace, the key is to offer an exceptional workplace – the kind of workplace that attracts and motivates employees. One way the study says to do that is to create a good work environment. With restrooms consistently ranked among the top three areas for facility complaints – and restrooms in industrial facilities decidedly dated, providing employees with a pleasant restroom experience is one clear means of creating a good work environment.
As manufacturers design new facilities or begin work on upgrading their older facilities, the following are five simple steps to take to turn your workplace restroom into a space that can help improve employee recruitment and turnover by communicating your commitment to employee health and wellbeing and to the environment.

Offer a Clean Restroom
Your restroom is one of the busiest spaces in your facility, which means it requires regular and consistent cleaning and maintenance – like as refilling all soap, tissue, towel and odor control dispensers; wiping and disinfecting all surfaces, including fixtures, dispensers, counters, sinks, faucets, urinals, and toilets; removing dust from vents, partitions and other often overlooked surfaces; emptying all trash receptacles; removing debris from and washing the floor; and ensuring all items are in proper working order.
To simplify restroom maintenance, consider installing a smart monitoring system, which helps prevent soap, tissue and towel outages by alerting cleaning staff when supplies are low. Smart technology also helps ensure problems like leaky faucets and faulty flush valves are addressed quickly by alerting cleaning staff to potential issues. With its consistent tracking and monitoring across the entire restroom environment, smart technology helps ensure the right staff are performing the right tasks at the right time, thereby simplifying and supporting a regular maintenance and cleaning routine.
Improve Hygiene
In an age of super-bugs, the comeback of long-gone communicable diseases like measles, and escalating employer health care costs, providing a hygienic restroom experience is a must.
One of the most straightforward means of stopping the spread of germs in the restroom is to use touchless fixtures and dispensers. It's pretty easy to accept that by not touching surfaces in a restroom, users greatly reduce the probability of spreading or acquiring disease-causing germs. Infection Control Today affirms this, noting that 80 percent of all infectious diseases are transmitted by touch. But thanks to motion sensor light switches and sensor-operated touchless flush valves, soap dispensers, and paper towel dispensers, restroom users can keep their hands, and their germs, to themselves.
Provide an Ensured Supply
If you've ever found yourself in a restroom stall with no toilet tissue, you know how embarrassing and uncomfortable it is. But there is no reason for users to encounter this problem with today's tissue systems that help to virtually eliminate product run out. Such systems combine both a high-capacity dispenser that holds up to four tissue rolls and long-lasting tissue rolls with up to 3,000 sheets each.
In addition, no one likes to wash hands without soap or shake off wet hands to dry them. Fortunately, many of today's soap systems offer high capacity refills to help users avoid the desperate search for a hand wipe or sanitizer. And towel dispenser systems boast dual roll auto-switch technology, which uses the smallest roll first and allows for 100 percent usage of each roll before switching to the standby roll, ensuring a towel is always available when needed.
And, as noted earlier, smart technology helps ensure a consistent supply of soap, tissue and towels is always available by giving cleaning staff the tools to prevent an outage before it happens.
Create a Homelike Experience
Using the restroom is a necessity, but it doesn't have to be a utilitarian experience. More than ever, employees want their workplace restroom experience to be as pleasing as their at-home experience, complete with privacy and a positive sensory experience.
According to the American Restroom Association, white noise or background music in a restroom increases the perception of privacy. Floor-to-ceiling stall partitions and doors also give the perception of privacy and help users forget, if even momentarily, that they are not alone.
In regard to tackling malodor, an easy solution is to provide a 360-degree odor control system with complementary fragrances. First, install automated motion-activated in-stall freshener dispensers to neutralize in-the-moment odors and subtly disperse an on-trend fragrance. Next, install low-splash deodorizer urinal screens to help keep urine off the restroom floor and the air smelling fresh at the same time. Finally, install a whole-room freshener dispenser to fill the entire restroom with a pleasant fragrance upon entry and exit that compliments the rest of the restroom's odor control solutions.
Promote Sustainability
Demonstrating a commitment to sustainability affects not only how employees perceive their workplace but also their feelings about themselves. In a 2014 study, statistics portal Statista found that the majority of consumers in every age group from age 15 up strongly or completely agreed that they felt guilty when doing something that is not environmentally friendly. It follows, then, that implementing sustainable practices within the restroom enriches the experience users have.
Brown paper towels provide a visual cue that you are using a sustainable towel option, and studies show that using high-quality brown paper towels improve a user's perception of the restroom. Coreless toilet tissue rolls, which eliminate both cardboard core waste as well as stub roll waste, are another visual cue.
Additional sustainability considerations include using automatic paper towel dispensers that control dispensing, including sheet length, to discourage users from taking more towel than is needed; and installing automated foam soap dispensers with high-quality soap to help optimize the total amount of soap users consume when washing their hands, thereby reducing waste.
Why It Matters
The Gallup study referenced earlier found that disengaged employees cost the U.S. between $450 billion to $550 billion per year. Providing your employees with a more positive restroom experience seems like one simple and affordable way to help create the kind of workplace that will positively impact recruitment, retention and your bottom line.