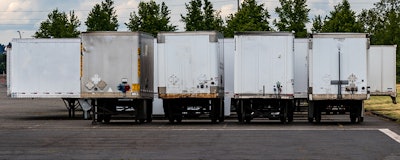 If you manage a distribution or manufacturing center, you don't need to be told that the process of shunting trailers around the yard is often excessively time-consuming and even hazardous. In fact, the majority of trailer-related accidents (and damage to trailers and equipment) happen while these trailers are being moved around the yard. These incidents take their toll in workers' compensation claims and property damage. Even if you can avoid accidents, you still have to contend with substantial expenses such as driver salaries and overtime.
The good news, however, is that there is a solution to these woes. Many yards have discovered that using an electric trailer dolly to shunt their trailers is the all-around best way to perform this common task.
Increased Efficiency
One problem with employing drivers to shunt your trailers is that the DOT requires that the person manning a yard truck have a valid Commercial Driver's License (CDL) if that truck is ever going to leave the yard – but many yards don't have anyone on hand who holds a CDL. You may also have to ensure that the driver's hours are logged properly. Failure to adhere to these requirements could result in heavy fines.
Wouldn't it be convenient if you could just dispense with this red tape altogether? You can if you have a trailer dolly in your yard. Trailer dollies can be operated without a CDL (or any other type of certification), and their ease of use means that they can be handled even by those with minimum training. You never need to wait for your driver. Practically any employee on site can use a dolly to maneuver trailers around the yard—it's really that simple.
Improved Safety
The process of moving a 40,000-lb. trailer around a crowded yard presents a number of opportunities for accidents. Often, the driver has to contend with partly obstructed sightlines and the difficulty of maneuvering around in confined quarters. It's not hard to see how things can go wrong—and occasionally, they do.
When you use a trailer dolly, a lot of these dangers can be minimized. Many trailer dollies permit forward-facing operation, so the user doesn't have to keep glancing over their shoulder when they're backing into a dock. This alone reduces a common cause of many yard accidents. Dollies enable improved sightlines as well, which aids the operator in avoiding obstacles that may be present in the yard.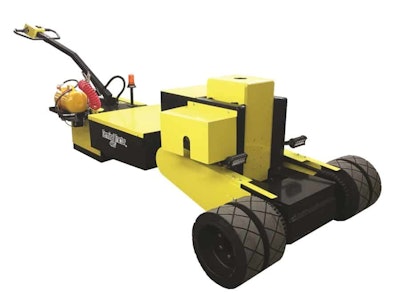 Enhanced Control
Steering a large yard truck safely is one of those tasks that isn't as easy as the average person tends to believe. That's why drivers of these vehicles are required to carry a valid CDL. Part of the problem is restricted space—yards are crowded with things (and people) that shouldn't come into contact with an extremely heavy trailer (at any speed). Far too often, the turning radius of a particular truck isn't tight enough for the driver to be able to maneuver through the site without major difficulty. It's an especially serious problem in small yards.
However, this changes when you have a trailer dolly on the site and ready to be used at a moment's notice. Dollies are substantially smaller than typical yard trucks and therefore are much better suited to operate in space-restricted areas. On many models, the driver also enjoys the benefits of wagon-wheel steering. This feature significantly boosts vehicle maneuverability by permitting precise turning and small steering corrections.
Reduced Expenses
With a trailer dolly in your yard or dock, you can save money in multiple ways. Many yards incur large operational expenses by keeping a CDL driver on staff (at a salary that can exceed $80,000 a year) or hiring a third-party service to handle their trucks. As we have noted, though, a dolly does not require any kind of license or certification, so there's no need to have a dedicated CDL driver on site at all. This important decision can lead to real bottom line cost savings.
But—you may ask—what about the expense involved in purchasing a trailer dolly? It's true that these vehicles can be expensive. If you choose the right model, though, it's possible to obtain a reliable, low-maintenance dolly at a fraction of the price of a standard yard truck. Plus, if you opt for a battery-powered trailer dolly, you can eliminate the cost of diesel engine maintenance altogether.
Look for a battery-powered shunt truck that is easy to operate and capable of moving loaded and empty semi-trailers up to 100,000 lbs. so that nearly any employee can assist and you're always prepared to get that trailer moved out of the dock at the drop of a hat.
When it comes to upgrading your yard operations, purchasing a trailer dolly can go a long way toward solving many of the hassles associated with shunting trucks.
Dawn Felker is a Senior Sales Engineer at DJ Products, Inc., known throughout the manufacturing industry for their power tuggers and trailer movers, including the TrailerCaddy Terminal Tractor. With 15 years of experience, she specializes in helping manufacturing and transportation companies improve efficiency by providing battery-powered alternatives to moving trailers with diesel trucks. ​