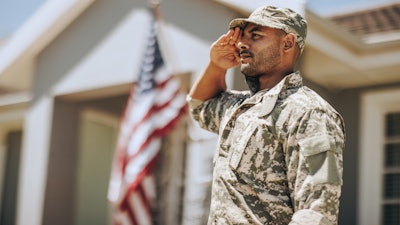 iStock
To honor Veterans Day and National Military Appreciation Month, Packaging and Crating Technologies, LLC (PACT) in Watertown, Connecticut, announced a charitable partnership with the Veterans of Foreign Wars (VFW) of Watertown.
Throughout the month of November, the family-owned, moving container manufacturer will donate 1% of sales proceeds from its entire product line to the nonprofit organization whose purpose is to speed rehabilitation of the nation's disabled combat veterans, assist their families and provide education and community service.
"We have strong ties to the military as it's a key business sector that uses our shipping and packaging containers when individual soldiers are moved from station to station," said Rodger Mort, President of PACT. "It is our privilege to give back to the heroes and their families who have given our country so much by fundraising for America's largest organization of combat veterans."
Mort notes that PACT's various patented shipping containers, which range in price between $40 and $2,000, are made from corrugated cardboard, a lightweight, sustainable and durable material that can often be reused for hundreds of moves.
The line includes:
LiftVan

- a large container that comes in five sizes to accommodate the transport of heavy-duty items up to 2,000 pounds, while stacking three bins high.

PleatWrap - a sustainable paper bubble wrap that has an engineered pleated center sandwiched between a tissue and a Kraft paper layer.
J-Crate - a lightweight, corrugated insert that is quick and easy to assemble, pack and unpack and offers a parcel 360-degree protection from shock, vibrations and dust accumulation.
Spiral Foot - a triple-wall, fiberboard fastener block that sits on the ground and attaches to the upper crate for lightweight durability and vibration protection.
MP40 - a packaging crate that contains four built-in dividers to ensure safe transit of fragile items such as plasma TVs, framed wall art, glass and marble tabletops. When not used for moving, it can be used as a resilient dolly-free bin.
Sofa Crate - a customized crate for larger furniture shipping that is strong enough to stack six units high.
Motorcycle Crate - provides moving protection through its patented corrugated sidewalls for side-impact and stacking strength.
The company is also a vendor for the U.S. Department of Defense and has been awarded a special permit from the U.S. Department of Transportation for the shipping of lithium-ion batteries, as well as passed the proposed SAE-G-27 test standard.
When products are ready to be disposed of, PACT's containers can be brought to any recycling center or eco-friendly dumpster.