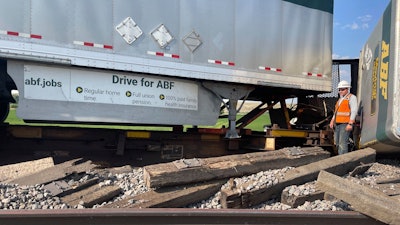 Amanda Frickel/Hill County Disaster and Emergency Services via AP
TULSA, Okla. — BlackHawk Industrial, a market-leading distributor of metalworking and other mission-critical industrial products, reaffirmed its commitment to quality and reliability with an extraordinary demonstration of the durability of its shipping totes.
In an unexpected turn of events, BlackHawk's totes faced the ultimate test and emerged victorious – they survived a train wreck.
BlackHawk's robust shipping totes are designed to protect valuable tools during transit. Rigorous testing, including a 40-pound tool drop from waist height, had already proven their resilience. The totes made their debut at the BlackHawk Summit in 2019, where they wowed audiences by withstanding drops from various heights.
Recently the totes faced a challenge that defied all expectations. A shipment of 541 tools in these totes was involved in a train wreck in Montana. The situation seemed dire, with over $70,000 worth of customer tooling at stake.
"Seeing our shipping totes not just survive but excel in the face of a train wreck is a testament to the dedication and hard work that goes into our manufacturing processes," said Jay Costa, director of manufacturing at BlackHawk Industrial. "We don't just deliver products. We deliver peace of mind to our customers, knowing their tools are in the safest hands, even in the most unexpected circumstances."
After three weeks BlackHawk received confirmation, the shipment was once again in transit to its destination. When the shipping totes finally arrived, battered, and cracked from the accident, the true extent of their toughness became evident – not a single tool inside the totes was damaged or lost.

"BlackHawk's shipping totes are more than just containers," said Costa. "They are guardians of your tools, ready to withstand even the most unexpected challenges. This remarkable story reinforces BlackHawk's position as a trusted partner across the production floor and why we are truly 'Big Enough to Serve and Small Enough to Care.'"
This incredible saga is a testament to BlackHawk's unwavering commitment to providing customers with the highest quality products. It also highlights the dedication of those who handle these totes, going above and beyond to ensure the safe delivery of valuable tools.