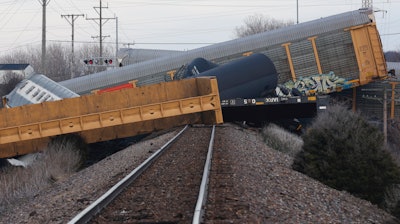 Bill Lackey/Springfield-News Sun via AP
OMAHA, Neb. (AP) — U.S. railroads were warned to take certain cars out of service Thursday after Norfolk Southern discovered loose wheels on a car involved in last weekend's derailment in Ohio.
It's not clear that the loose wheels caused the derailment near Springfield last Saturday because the National Transportation Safety Board has just begun investigating that crash — the latest in a string of high-profile derailments that have been grabbing headlines. But the railroad said the loose wheels on the car could cause a derailment.
Norfolk Southern said in a statement that after the railroad discovered "additional cases of unusual wheel movement," it acted quickly to notify accident investigators and the rest of the industry. The Association of American Railroads trade group responded Thursday by issuing an advisory about the suspect cars.
The trade group said the problem was linked to new wheel sets that were installed on specialized steel coil cars beginning in August. The association said all of the cars with those wheels should be inspected and have their wheels replaced immediately.
It wasn't immediately clear how many railcars might be affected or their location, Association of American Railroads spokeswoman Jessica Kahanek said.
Railroad safety has been in the spotlight since a fiery Norfolk Southern derailment in Ohio last month. Roughly half of the town of East Palestine had to be evacuated after several hazardous materials cars caught fire. The railroad's CEO was answering questions about that wreck at a Congressional hearing on Thursday.
Besides the Springfield derailment, two others have been reported across the country in the past week, although none of those involved hazardous materials.