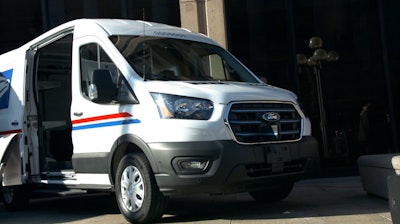 USPS
The United States Postal Service yesterday announced that it expects to acquire at least 66,000 battery electric delivery vehicles as part of its 106,000 vehicle acquisition plan for deliveries by 2028. The vehicles purchased as part of this anticipated plan will begin to replace an aging delivery fleet of more than 220,000 vehicles.
USPS anticipates at least 60,000 Next Generation Delivery Vehicles (NGDV), of which at least 75% (45,000) will be battery electric. As part of this plan, a total of 21,000 additional commercial off-the-shelf (COTS) vehicles are also expected to be battery electric, depending on market availability and operational feasibility. The postal service also anticipates including internal combustion vehicles necessary to meet immediate vehicle replacement needs.
Unlike the vehicles they are replacing, the new EVs will feature air conditioning and advanced safety technology and are more suited to modern day operational requirements. For any COTS vehicles purchased, USPS will include a preference for domestic manufacturing.
The announcement is enabled by the service's overall network modernization efforts which allows for a more rapid deployment of EVs, and its improving financial condition which includes $3 billion in congressional funding appropriated under the Inflation Reduction Act (IRA).
USPS will continue to evaluate and procure vehicles over shorter time periods to be more responsive to its evolving operational strategy, technology improvements, and changing market conditions, including the expected increased availability of BEV options in the future.
New NGDVs are expected to start servicing postal routes in late 2023.