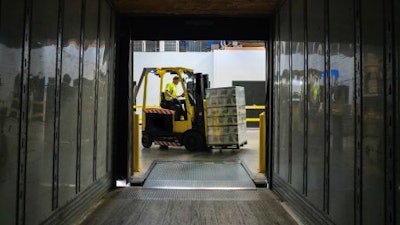 OneCharge, Inc.
Hyundai Material Handling and OneCharge, Inc., have entered into a strategic partnership to provide advanced lithium ion (Li-ion) battery technology to Hyundai's North American dealer network and their customers.
Research indicates that by 2030, 70% of all electric forklifts will be powered by Li-ion batteries. With this new partnership, Hyundai will be able to offer Li-ion batteries that need no daily maintenance while delivering a longer lifespan and lower operating costs.
OneCharge Li-ion batteries have full communications integration with Hyundai's 9U Series of electric forklifts. This plug-and-play configuration allows the battery to seamlessly integrate with the truck.
The result is that Hyundai's interactive instrument cluster retains its full functionality monitoring the battery state of charge and low battery warning system.
OneCharge offers over 650 battery models and growing. Every OneCharge battery features a data processing module tracking numerous operational parameters, allowing users to acquire and analyze significant volumes of data, further enabling value-added services for forklift owners and operators.
These services range from daily usage reports to Energy as a Service (EaaS) offering, sometimes referred to as "power by the hour."
Bringing this technology to its dealers and their customers is part of Hyundai Material Handling's commitment to play a leadership role in providing innovative solutions to the material handling industry.