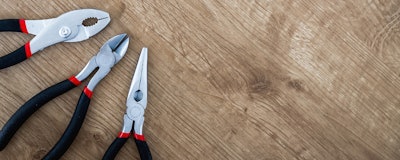 Dassel, MN — American Time, a provider of integrated time solutions, has announced the winner of the 2018 Maintenance Hero Contest. Bill Vokes, director of maintenance and grounds at Seton Hill University in Greensburg, PA, was named the 2018 Maintenance Hero in this nation-wide search. Jeannie Donovan, head custodian at Sylvania Northview High School in Sylvania, OH and Mel O'Campo, facilities manager at Santa Maria Foursquare Church in Santa Maria, CA were the runners-up.
Vokes' selection was based on the number and quality of his nominations. A quiet and reassuring presence on campus for 50 years this month, Vokes was nominated many times by colleagues who described him as deeply respectful and respected, dedicated to the institution, and one who demonstrates an "incredible" work ethic. Vokes ensures a safe, clean, healthy, and welcoming educational environment and puts students at the center of all that he does. One example submitted was when a class location was found to be inaccessible for students using wheelchairs. Overnight, Vokes and his team installed cement pavers so students could be wheeled into an alternate entrance. But because the grade was steep, he scheduled a staff person to assist students to and from class for the entire semester. The nominator wrote that although this was not technically Vokes' job, he would not allow a student to be in need. Another submission for Vokes' read, "Bill would just say he's doing what's right. I will say he does what is right with love."
Donovan's nominators highlighted her outstanding leadership skills that have transformed the Northview High School campus and custodial team. "[She] makes me proud to be a part of this team," wrote one nominator. "Her work ethic, leadership, and human spirit have helped make Northview High School a wonderful place to learn and work each day." Another colleague wrote, "Any teacher knows that it is not the teachers or the administrators who make the school building work, it is the support staff working tirelessly behind the scenes. I can confidently say that Northview High School works because Jeannie Donovan is an outstanding staff member, leader and colleague." Another nominator echoed that sentiment, "The dedication and kindness she brings to Northview means that we, quite literally, could not do what we do without her."
O'Campo was nominated as "one of the most loyal, hard-working people you will ever meet." His commitment shows not only in his excellent maintenance of the church's three-acre campus, but in the care he demonstrates for the people the church serves. For example, O'Campo often works with individuals who are instructed by the court to perform community service. Beyond simply giving them a task to do, Mr. O'Campo takes time to listen to them, shares stories of his own life, and encourages them to get on a solid path for the future. "It's incredible to watch him pour into others," said Mr. O'Campo's nominator. "He is an inspiration to our staff, our church family and our community."
As the grand prize winner, Vokes earned $3,000 in American Time product credit for Seton Hill University. Donovan and O'Campo each earned $1,000 in American Time product credit for their places of employment
"The submissions we received were incredibly enthusiastic about the maintenance professionals in their lives," said George Wilkes, president of American Time. "From every corner of the country and from diverse industries, we received stories of individuals who are making an enormous impact on their colleagues and communities. We are thrilled to recognize Vokes, Donovan, and O'Campo as heroes whose skills, leadership and commitment are making an exceptional difference in the world."
The Maintenance Hero contest was open to any organization in any industry — private, public, nonprofit, educational or others — that wished to nominate a valued maintenance professional who routinely goes above and beyond in the workplace but receives little recognition for their efforts.