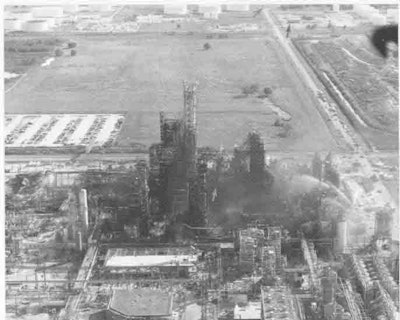 On this day in 1989, 23 people were killed by a series of explosions at a Phillips Petroleum Company plant in Pasadena, Texas. The blasts were caused by an ethylene leak as a result of inadequate safety procedures.
In order to lower costs, Phillips contracted out a substantial amount of maintenance work in the plant. The primary subcontractor, Fish Engineering and Construction, did not have the safest reputation in the industry. Less than two months prior to the Phillips explosion, due to unsafe practices, a Fish employee was responsible for an explosion that killed one and injured four.
Free Whitepaper: How to Use Technology to Mitigate Risks in Chemical Manufacturing
On October 23, 1989, Fish was working on the Pasadena plant's polyethylene reactor. Because a valve had not been properly secured, approximately 85,000 pounds of highly flammable gas leaked into the plant. After two minutes, the gas ignited, setting off an explosion equal to the power of two-and-a-half tons of dynamite. That explosion set off a series of blasts.
23 of the workers were killed and an additional 130 suffered serious injuries. There had been no warning system in place to alert workers of the gas leak, and though the Occupational Safety and Health Administration had cited the company on multiple occasions, it had not conducted a full inspection of the plant in over a decade.
OSHA cited Phillips with 566 willful and 9 serious violations (but later removed the willful characterization of the violations), and the company agreed to pay a $4 million fine and implement safety procedures at four of its facilities.