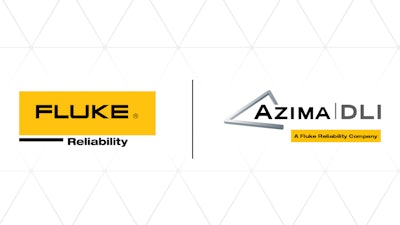 Fluke Reliability
Fluke Reliability, a wholly owned subsidiary of Fortive Corporation, characterizes itself as a solutions provider designed to empower reliability and maintenance teams. The company does so by offering hardware, software and services, all with the intent to optimize the asset performance of its customers.
Fluke Reliability has announced an exciting new addition to its portfolio of solutions with the recent acquisition of Washington-based Azima DLI. Azima DLI has long been known for its predictive machine condition monitoring and analysis services but has, more recently, enabled its technology through the use of artificial intelligence (AI).
Referring to the Azima DLI business as "a natural fit," Ankush Malhotra, president of Fluke Reliability, added that the addition will empower the company's customers with "cutting edge vibration diagnostic capabilities that revolutionize operations, optimize productivity and enable data-driven decision making."
In this exclusive interview with Malhotra and company CTO Aaron Merkin, we learned more about Fluke Reliability's plans. (Responses have been edited for length and clarity).
IEN: Can you provide us a quick overview on the key benefits of the Azima DLI acquisition?
Malhotra: We've known Azima DLI for more than a decade, and we've worked with them closely. This is a really great add-on. We're already talking to the same buyer of our products and solutions and this gives us the ability to give a complete solution set to the customer.
What really obviously excited us is that this artificial intelligence analytics, we believe, is the most advanced diagnostic engine in the market. And what makes it that is really its ability to cover a wide variety of machines, and a database that's built over 20, 25 years by collecting machine test points and analyzing the fault and then building algorithms which allow us to predict and proactively tell our customers when something could go wrong. In addition to that, we feel there's a shortage of skilled workers; a lot of customers are looking for that expertise. I think in this case, our customers can leverage the 30+ analysts that sit around the globe who can monitor the data that's coming out of some of the machines, analyze it and tell customers what to do.
This helps our customers overcome this expertise gap that they have. A lot of our customers are on this journey of moving from reactive to proactive. More and more we see that as a trend that's really taken off post-COVID as well. I think this helps accelerate their journey. Truly, it allows our customers to be predictive, to take action, to go make those assessments on the machines and to go work on those assessments with the machine before something goes wrong.
The third point is really, really important and I think this is a unique differentiation: What the Azima AI-based system does is it automatically processes 93% of machine tests. In this case, it's narrowing down to 7% and saying, 'go take action on those.' Or it requires human intervention on those which may lead to action. So I think we'd really, really help narrow down that and make the workflow and the worker so much more efficient.
IEN: Back to your points around the skills gap when it comes to vibration analysis: I think the skill shortage there sort of preceded the larger ones that are impacting manufacturing now. That vibration analysis skill problem was really a longstanding one. Do you see that getting worse?
Merkin: I think there are two things. I think there is definitely just the natural age of industrial facilities and then the workforce deployed in them. There's definitely an increasing gap and a need for vibration expertise. I think the other thing is that, because of the buzzwords of IoT and AI, customers are also just (feeling) general economic pressure as well to always be more efficient. Customers are feeling a lot more like the reliability manager at a plant. They're feeling a lot more pressure to take advantage of technologies and drive uptime.
So there's generally more market demand and because of Azima DLI with that expert system, the AI that we have, we are able to very easily extend. We're not requiring customers to have vibration experts themselves. We're able to take advantage of our operation analysts working with our expert system and are able to augment a customer who has no vibration expertise of their own.
Malhotra: I think the one thing we've seen a lot is as the new workforce is coming in, they are the younger, newer workforce. They're used to using Netflix at home, they're used to using iPhones. So the expectation is that the same technology is available to them at the workplace and their work environments. And I think we spend an enormous amount of time in our development of our products, be it around the user interface or how easy we can make things for our customers. So I think maybe the expectations are different, which also allows us to make sure we can offer solutions where customers are. The new worker is not expecting to do it all, but really partner with someone to get to the answer.
IEN: Do you ever see a future where there is a fully human free AI analysis program in place for people? Is that a reality ever, do you think?
Merkin: Forever's a long time. What I would say is there's a long tail. The way that you think about the workflow really is that any expert system or any AI system in this case is going to produce a diagnostic with a confidence score. And if the algorithm is very confident in the prediction, and particularly in our use case its prediction is that there's no problem with the asset, then there's no human intervention required. And it's when we started seeing that, okay, either we're saying that there's a very critical fault, even if we say it was high confidence, probably still want do human expert to look at it before you tell a customer to take a machine offline.
So we still want to have a human being involved and in our case with Azima, 93% of the machine tests that are sent through the system do not require human intervention. And our workflow is fundamentally to have, if the algorithm says high confidence, no problem, we pass it through. If it starts saying that there may be a fault or the critical fault may be a low confidence, then we have an escalation of the level of expertise our vibration analysts have looking at it, interpreting the data. Because our goal is to make sure we have high confidence in the prediction we give the customer and I see that 93% is going to slowly creep up. But I don't believe, in a meaningful timeframe, it will ever be a hundred percent
Malhotra: More recently we see that there's a big focus and emphasis on training. We've got bootcamps, and we are trying to do our part to see how we partner and work with organizations so we can help impart that knowledge and education in a way that they can do their job better.
Is there a point where it'll get automated? If you have a hundred machines in the facilities, there may be 40 machines that do not require human intervention because of how well (the) algorithm (works). But we also see that, with our customers, that's changing. There's a level of conservatism and I think we feel like they want that confidence. We're so proud to welcome the experts that come with the Azima acquisition that can help build that confidence and over a period of time, as a customer sees confidence in the product and our expertise, that mindset improves as well.
For more information, visit the Fluke website.