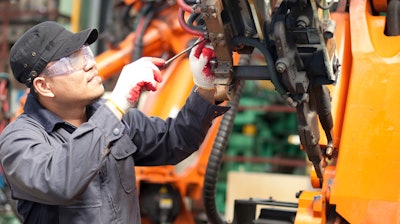 The Industrial Revolution has never really ended, and that's especially true for asset-intensive operations. Sensors, automation, and now machine learning and mobile apps have ushered in a new era—Maintenance 4.0—that is transforming enterprise asset management (EAM) with Big Data.
In order to retain business continuity organizations are enabled – but also challenged - with using real-time, dynamic information in a way that not only predicts, but prescribes, asset condition and maintenance. Evolving EAM to an Asset Performance Management (APM) approach applies the algorithms and analytics that make sense of these growing data volumes. This means organizations can optimize labor and materials, improve the accuracy of capital budgeting and forecasting – while also working to do more with less.
APM helps set a course for maintenance maturity though:

Predictive and risk modeling


Automated workflows for prescriptive maintenance


Capture, consolidation, and analysis of large amounts of asset data over time


Performance failure analysis and model under varied condition

The identification of which key components to remain in inventory, and which are not necessary
The Data Dilemma
While we may cheer the arrival of Big Data, that does not always mean organizations know how to put to use the massive volumes of asset data stored in a Maintenance 4.0 system.
This is especially true as industries continue to face business disruptions. Companies and leaders are finding themselves asking big-picture questions about how APM data can provide the biggest business benefits, both short-and-long term. Decisions around the right areas for reinvestment, as well as questions about what data sets are most useful, are also top of mind for those organizations moving toward APM. By deploying a Maintenance 4.0 system in the cloud, organizations do not have to make any either/or decisions on which data to keep, or which to discard. That data can simply be stored in a data lake until it's ready to be used.
The Five Components of APM
With APM often integrating with ERP and other systems such as supply chain and product lifecycle management, there are five components necessary in an APM solution:
Asset Registry that standardizes asset definitions, minimizes manual data entry, provides asset inventory visibility, and assesses risks.
Work History to track all data, for each work order and for each asset, to record not only who performed the work, but what tools and materials were used. It also enables failure code analysis.
Real Time Condition Data connecting critical asset control systems via sensors and instrumentation to show asset condition at any point in time.
Algorithms and Modeling Analytics to drive actions, apply AI/machine learning, and enable "what if" analysis.
Modeling that takes asset registry, work order, and condition data to predict asset performance under varying circumstances.
Connectivity that includes APIs, and condition data from such systems as process logic controls, SCADA systems, and monitoring systems.
APM, People, and Improved Processes
While the industry focuses on the value of APM to optimize operational assets, it can also be used to create more productive and engaged staff. The truth of today's asset-intensive operations is that they are not bringing in more employees. We are seeing IT and operational techs blurring lines between roles and responsibilities, and sharing skill sets. Evolving EAM to APM, and embracing Maintenance 4.0, allows staff to work with the same data sets to analyze both asset and business status and results.
APM in the cloud also enables full mobility of maintenance staff and other remote workers, as well as real-time data entry and reporting to meet the demands of today's workforce. It also eliminates unnecessary activities, and puts the right people on the right maintenance task, while also providing optimum security for the data collected. More than simply a business strategy, APM is also crucial to staff safety, and able to monitor conditions that could lead to a spark, or, even worse, fire.
Implementing Maintenance 4.0 can seem complex and daunting. As industries currently ponder their business future—no matter what it may bring—cloud-based APM technologies are keeping pace to streamline and simplify the evolution to help them remain nimble for whatever is next.
Kevin Price is a Technical Product Evangelist & Strategist for Infor. For more information, visit www.infor.com.