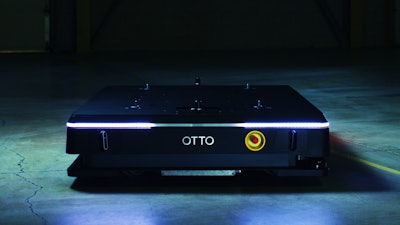 Otto Motors
MILWAUKEE – Rockwell Automation this week announced it completed its acquisition of Ontario, Canada-based Clearpath Robotics, a manufacturer of autonomous robotics, including autonomous mobile robots (AMRs) for industrial applications. Rockwell signed a definitive agreement to acquire Clearpath in early September.
The acquisition includes Clearpath's namesake research division and industrial division OTTO Motors, which provides AMRs. Both divisions report to Rockwell's intelligent devices operating segment.
"Rockwell is simplifying and transforming the difficult yet critical function of material handling throughout the manufacturing plant with an end-to-end production logistics solution," says Blake Moret, chairman and CEO, Rockwell Automation. "Production logistics is key to optimizing operations across an entire facility."
Most Read on IEN:
According to Interact Analysis, the market for AMRs in manufacturing is expected to grow about 30% per year over the next five years, with an estimated market size of $6.2 billion by 2027. This acquisition is expected to contribute a percentage point to Rockwell's fiscal year 2024 revenue growth.
"Not only do AMRs connect islands of automation; they are often one of the final major elements that help manufacturers achieve autonomous production logistics, enabling significant value creation for the manufacturer and their customers," said Amar Mehta from Ernst & Young. "Rockwell is a leader in the key hardware, software and services that are needed to integrate AMRs into a manufacturing plant. With this acquisition, Rockwell enhances its ability to take manufacturers on a full end-to-end digital transformation for their production environments."
OTTO Motors, which was recognized as one of Fast Company's Most Innovative Robotics Companies of 2023, will be featured at Rockwell's Automation Fair, an industrial automation and digital transformation event, Nov. 6-9 in Boston.