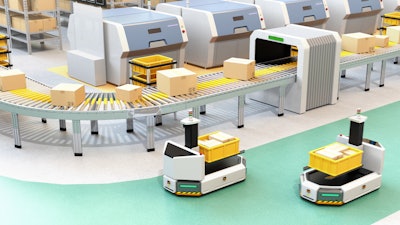 2020 proved to be a challenging—and opportunistic—year for the warehousing and logistics industry. This was largely due to COVID-19's impact on consumer purchasing behavior and the widespread transition to online shopping. In the case of food shopping, online grocery's percentage of the $1.04 trillion grocery market was pegged at 10.2 percent in 2020 up from 3.4 percent of the $1.02 billion market in 2019, according to a recent study.
As this behavior is not expected to revert following the pandemic or even years ahead, distributors must now increase their robotic automation to keep up with growing demands or risk losing out on the opportunity to provide better, faster service consumers are expecting.
Industry professionals and consumers alike are seeing a shift in adoption (albeit a long time coming) of robots in everyday life—they are no longer the things of fantasy. Companies like Locus Robotics and 6 River Systems have deployed thousands of their autonomous mobile robots in warehouses to help move goods, making pickers more efficient.
Also, companies like Universal Robots have been creating collaborative robots (cobots) that are changing the way workers interact with robot arms. Today, innovators like Veo Robotics and Humantics are creating robotic software meant to enhance cobots and work alongside humans in industrial settings. Since the onset of the pandemic, COVID has accelerated adoption timelines for manufacturers and logistics companies based out of pure demand, but there is certainly a lack in widespread adoption that needs to be addressed. So, this begs one question. Why?
The answer is a simple:
Rrobots and cobots have physical limitations that customers need to learn about before they can integrate them into their workflow process.
Deployment of these robots takes time.
A recent report from Fabric Media puts it this way: "Companies have successfully deployed cobots, but the rate of adoption is lagging behind expectations, by 2019 reaching just three percent of the total industrial robots installed. To ensure safe operation, cobots come with built-in constraints, like limited strength and speed. Those limitations have also limited their adoption: Companies cannot achieve return-on-investment without the strength and speed advantages offered by traditional robots."
Deploying robotic automation also requires a fundamental change in the way companies do business. This in turn is perhaps the greatest setback and why we haven't seen much adoption across the industry despite the overall growth of the industrial robot sector. According to the Wall Street Journal, in 2019, 373,000 industrial robots were sold and put into use. That number has grown about 11 percent every year since 2014, to a total of 2.7 million industrial robots in use worldwide.
However, the transition from the lab to the real world always presents unknown challenges. Companies will need to learn from obstacles and make appropriate adjustments. For example, a company like Walmart that ended deployment of its shelf-scanning robots project in November does not mean that they are done with automation. The company previously announced it plans to turn four stores into technology test centers so it can innovate even faster. We will likely encounter different robot applications in Walmart aisles in the future.
When all is said and done, distributors must automate to keep up with demand. Considering that it takes years for these systems to convert over to robotics, warehousing and logistics applications will see the most growth in the next few years and they need to prepare now.
How Should Distributors Activate Robotic Automation
Before distributors begin turning processes over to robots, companies need to take a step back and see where their current workforce is at and begin training them for the future. Warehouses across the U.S. are full of workers that are skilled in the art of the day-to-day. If distributors want to succeed then they must automate. But 20 percent of executives have yet to establish plans to retrain or reskill their workforce.
Additionally, 57 percent of respondents to a recent survey said: "…employees are moderately or very anxious regarding their ability to succeed in their jobs due to automation... As a result, it is crucial for businesses to provide automation reskilling and upskilling opportunities so employees have the skills needed to thrive in the future of work and maximize the potential of automation investments."
The bottom line: begin training ASAP so workforces can be prepared when the change inevitably comes. Amazon is already ahead of the curve.
What Does the Future Hold?
Five years from now, things can either be shockingly different or the same—I'm leaning more toward the latter but with increased adoption.
Close human robot interaction and human-robot collaboration in the workplace will continue to evolve in 2021. In particular, the use of collaborative arms on mobile platforms, allowing for simpler automation of tasks like picking, will continue to grow. As this becomes more prevalent, innovative new uses for this collaborative technology are expected to emerge as well.
There are great systems by companies like Veo that are making vision software for robots so they can operate in the same space as humans. When you look back 10, 20 years ago, you saw factory automation caged in. That's slowly going away, and it's going to continue on that pace. We're going to see these robots doing all sorts of different tasks in a very flexible way.
We might even be around to see the realization of humanoid robots like Sophia—but we shouldn't hold our breath.
Tom Ryden is the executive director of MassRobotics.