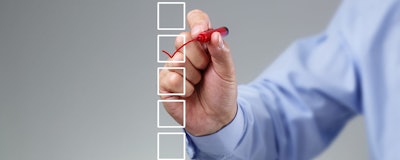 Today's marketplace is one of global customers and intense competition. It is vital for manufacturing businesses of all kinds to take advantage of any strategy to improve their ability to respond to market changes through efficient capital improvement projects. One of the most important factors that can help them achieve these goals is reducing the cost of capital associated with construction. Manufacturing leaders are under more pressure today than ever before. That means that they need to bring products to market and change over existing product lines quickly and cost-effectively if they want to enhance their competitive advantage.
The construction industry has been mired since the middle of the 20th century with little to no productivity improvement. The construction industry has struggled to translate technology advances into improved productivity, held back by archaic and highly litigious contracting methodologies that encourage behaviors that are not in the best interest of improving the speed and cost-effective deployment of capital improvement projects. Over the same time period, the manufacturing sector has had significant productivity improvements due to the adoption of new technologies and manufacturing methods, such as Lean Manufacturing, that have resulted in the construction costs of bringing new products to market becoming a larger share of the overall capital improvement project.
One new project delivery method attracting attention is Lean Project Delivery (LPD). This approach is based on the same principles of waste and cost reduction that have helped the manufacturing sector achieve tremendous productivity improvement, and transforms the way manufacturing businesses move through their projects.
While senior stakeholders can question new and unfamiliar concepts, the potential benefits posed by LPD are worth investigating. Here is an overview of LPD, with particular focus on implementing Conditions of Satisfaction.
Essential LPD Elements
As with any kind of methodology, LPD has certain elements that are essential to its success. These elements define LPD projects and help guide those using the approach.
Because LPD focuses on collaborative work, for example, selecting potential collaboration partners early in the project is an important step to take—this helps unite construction and design teams with the owner of the project to help promote the shared vision and goals of the project.
A collaborative work environment between the aforementioned parties lends itself well to Target Value Delivery (TVD), another essential of LPD projects. TVD is a concept that leverages early collaboration to integrate budget and constructability requirements as the project is designed rather than waiting for this input at a bid meeting or, even worse, in the form of change orders.
Another essential LPD element is cohabitation between owner, constructor, and designer to incorporate input and identify potential problems while the project is still in the design stage rather than encountering unexpected issues and potential cost increases. The typical lag in communication between the various parties of a construction project results in decreased speed, increased misunderstandings and costly re-work
To help ensure that this collaboration takes place, a form of commitment-based scheduling must be used. This kind of scheduling emphasizes a collaborative approach to scheduling the large milestones with the key stakeholders working together to agree on the milestones using a Pull Planning approach and then re-visiting the milestone plan throughout the project. The more detailed scheduling takes place in two to three-week increments, again with the key stakeholders that are responsible for implementing the work in the field collaboratively using a Pull Planning approach to identify all of the hand-offs and commitments to be made in the shorter increment of time. Visualization boards and short daily huddles are utilized to enhance the collaboration amongst the stakeholders.
In addition to these elements, Virtual Design and Construction (VDC) as well as collaborative contracts that emphasize shared risks and rewards decisively factor into LPD.
A key component, however, involves defining conditions of satisfaction. While LPD is a method that can be used with almost any project, it works best with projects where early collaboration helps clearly and firmly establish shared goals for the project.
These goals, also known as "conditions of satisfaction," are elements of a project that must be present in order to clearly align the project stakeholders. One of the reasons why early collaboration is so important is because it is vital to establish these conditions early and keep them in mind as time passes.
Conditions of Satisfaction (CoS)
As mentioned above, conditions of satisfaction are vital to the success of an LPD project. Some insight into how to collaboratively develop them for your project:
First, there should be a strong vision of success that all team members share and can clearly articulate. These conditions of satisfaction must be co-developed by the Owner and the Project Partners with the intent that the agreements are commitments to one another, not just between the Owner and the team. The goal is to encourage behaviors that create a team-oriented culture that has proven to result in improved project schedule and budget performance, as well as greater satisfaction amongst the project stakeholders.
It is equally important that each CoS be measurable. The team members should clearly understand how it will be measured and how progress toward meeting the condition will be shared (i.e. what does success look like?). They should also be continuously reviewed throughout the project and adjusted so that they remain relevant to the team. The team should be rewarded if they meet the CoS and penalized if they do not, therefore connecting it to the Risk/Reward part of the contract is fundamental to the implementation.
A Clear Vision of Success
Under the conditions of satisfaction, teams need to have a clear vision of success. Typically, there are no more than 10 to 15 CoS identified on a project. As with traditional delivery methods, there need to be a CoS that addresses budget, schedule, and safety objectives. However, limiting it to those traditional measures would fail to put in place the essential elements that help teams really collaborate.
Some examples of CoS that would depart from the traditional measures would be items like ("Project Conditions of Satisfaction (CoS)", Lean Construction Institute):
Everyone is profitable
Number of RFI's
Number of Change Orders
Number of Punch List items
Percentage improvement in productivity
Exceptional teamwork
Quality at acceptable levels the first time
Total Project Transparency
Strong Stakeholder Involvement
Rapid Mitigation of Existing Condition Discoveries
Consider a case scenario of a clearly articulated vision beneficial to LPD. Project decision makers had a large volume of Owner requirements that were well-developed. They provided the project team (CM, Designers, Trade Partners) with these requirements, and the team, in turn, built the conditions of satisfaction on a detailed review of those requirements.
After consideration and development, the team met with project decision makers to present conditions they felt could be reduced or changed to provide savings of both cost and time. The stakeholders and team members then vetted them collaboratively to determine which conditions were important and which were not. Some of the items were dependent affecting the behavior of the Owner team or providing site conditions that they were unsure of being able to meet. The line item costs of those items were tracked and the owner received that reduction only if the CoS were met.
One particular related to the project site being part of a large mixed-use campus with manufacturing, R&D, and office space. The logistics of parking and associated issues such as the lunch tent location were posed to have a significant impact on the efficiency and, therefore, the cost, of the project. Workers who have to travel long distances to the construction parking lot and lunch tent can lose a significant amount of working time and lead to notable increases in the amount of cost necessary to finish the project.
Because project leaders and team members were able to collaborate early on, this potential issue was identified at the outset and a new solution was developed. The Owner agreed to re-organizing some of the parking and allowing a lunch tent close to the work in order to provide better project access for the construction group.
Through this process, project stakeholders understood the larger picture and recognized that there were certain conditions that had to be driven by the project team and there was a clear cost benefit if they were able to accommodate that particular condition.
Reap the Benefits
LPD is an effective project execution method that can help improve the time and cost efficiency of many different types of projects. If decision makers, constructors, and designers can come together to build a collaborative project from the outset, it is possible for today's manufacturing businesses to revolutionize the way they approach projects – and to reap the benefits as a result.
Mary Stepnick, AIA, PMP, is Chief Administrative Officer (CAO) and is responsible for the oversight of Lean Project Delivery (LPD) at SSOE Group (www.ssoe.com). She can be reached in SSOE's Chandler, Arizona office at 623.552.3374 or by email at [email protected].
Todd Alsdorf, PE, is the Founder of Balance Rhythm Harmony (BRH) LLC, a consulting firm that helps teams improve how they work together to implement projects.