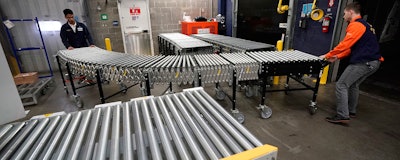 Harsh winter weather and a partial government shutdown could be to blame for the smallest monthly job gains in nearly a year and a half.
According to the Bureau of Labor Statisitics, U.S. employers added only 20,000 jobs in February. This tepid pace comes after a whopping 311,000 jobs were added in January. The unemployment rate declined to 3.8 percent, which is near the lowest unemployment level in five decades.
The U.S. manufacturing sector also experienced minimal gains in February, posting only 4,000 new jobs. Over the past year, the sector saw average increases of 22,000 new jobs per month.
"Manufacturing barely continued a positive run of job gains in February," said Alliance for American Manufacturing President Scott Paul. "While it's too early to tell whether this is a trend or a blip, there are policies that can boost factory jobs. Infrastructure investment, which has broad, bipartisan appeal, would be a good start."
Employment in other major industries, including mining, retail trade, transportation and warehousing, information, financial activities, and government, showed little or no change over the month.
"The trade deficit with China may also be dampening the full potential of American manufacturing," Paul said. "This makes a tough, enforceable deal with China even more important. We urge the administration not to settle for the sake of expediency."
The Associated Press reports that unseasonably cold weather in February that hit some areas of the country could have affected job growth in some industries such as construction and restaurants. The 35-day government shutdown—which ended in late January—could have also affected job growth.
Despite the slowdown, most analysts expect growth to rebound in the April-June quarter. However, getting a precise read on the economy could be more difficult than usual as many data reports continue to be delayed due to the partial government shutdown.