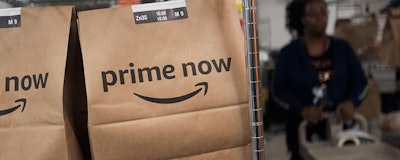 NEW YORK — Amazon, which has faced political and economic pressure to raise pay for thousands of employees, is boosting its minimum wage for all U.S. workers to $15 per hour starting next month and said it will push for an increase in the federally mandated minimum wage, which now stands at $7.25 per hour.
"We listened to our critics, thought hard about what we wanted to do, and decided we want to lead," said Jeff Bezos, Amazon's founder and CEO.
The wage hike will go into effect as Amazon hires more than 100,000 holiday workers to pack and ship goods in its warehouses. Employers are facing the tightest job market in nearly two decades, making it more difficult to lure workers who have a lot more choices about taking a job than just a year ago.
Amazon said Tuesday that the wage hike will benefit more than 350,000 workers, which includes full-time, part-time, temporary and seasonal positions. Employees at Whole Foods, the grocery chain Amazon now owns, will get the same pay hike. Amazon's hourly operations and customer service employees, some who already make $15 per hour, will also see a wage increase, the Seattle company said.
Amazon has faced criticism from labor rights groups and others over pay and working conditions at its warehouses. One of its harshest critics is U.S. Senator Bernie Sanders. His Twitter account, which has nearly 9 million followers, frequently points out the disparity between Amazon's median employee pay and Bezos' vast fortune.
Sanders congratulated Bezos Tuesday for "doing exactly the right thing."
Pay for warehouse workers at Amazon can vary by location. It was offering at least $12.25 an hour in Omaha, Nebraska, $13 in Baltimore and $16.50 in New York, according to recent job postings. The median pay for an Amazon employee last year was $28,446 worldwide, according to government filings, which includes full-time, part-time and temporary workers.
In two decades the company expanded far beyond its bookseller beginnings, combining its world-spanning retail operation with less flashy but very profitable advertising and cloud computing businesses. Last month it became the second publicly traded company to be worth $1 trillion, hot on the heels of Apple.
Despite its domination, it shares one potential hurdle that is growing higher for almost all employers big and small: a tightening labor market. The unemployment rate is 3.9 percent, near an 18-year low. The most recent statistics from the U.S. Labor Department showed that in August, the pace of hiring rose again and wages grew at their fastest pace in nine years.
Average hourly pay jumped 0.4 percent in August and increased 2.9 percent compared with a year earlier. That's the fastest annual gain since the Great Recession ended. There are now more available jobs than unemployed people, the first time that has happened in the 18 years that data on open jobs has been tracked.
As competition among companies for qualified workers grows more intense, and they are increasingly willing to pay.
Last fall Target committed to giving its employees $15 per hour by the end of 2020. And in January Walmart raised its starting wages to $11 per hour.
But corporate profits in the U.S. are booming, and that wealth isn't being spread out nearly fast enough for many. Amazon earned $2.53 billion in just the second quarter alone.
On Tuesday, fast food workers in Michigan are going to kick off a series of protests in the Midwest and elsewhere around the country in support of unions and a $15 minimum age.
Neil Saunders, managing director of GlobalData Retail, said Tuesday that while Amazon's wage hike is a politically savvy move, it's also a change made out of economic necessity. With a healthy U.S. economy, Americans looking for work have an increasing number of job options, so Amazon has to find ways to entice people to join its company.
Amazon is also increasing wages in some areas outside the U.S. The company announced that the minimum wage will be 10.50 pounds an hour in London and 9.50 pounds in other parts of the UK. The increases will include 17,000 Amazon employees as well as 20,000 seasonal workers.
Amazon.com shares were little changed Tuesday, but they have been among the best performers in the S&P 500 this year, with a gain of about 70 percent, compared with a gain of 9 percent for the S&P.
The company is the second-most valuable in the index after Apple Inc., and its market value briefly reached $1 trillion on Sept. 4.