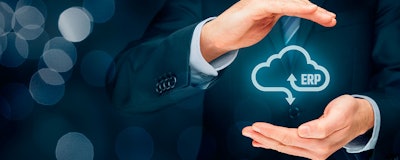 A recently released survey by Mint Jutras of more than 300 manufacturers and distributors about their ERP implementations revealed that the majority were pleased with the results. The respondents are in leadership roles at manufacturing and distribution companies with revenue that exceeds $25 million annually and have deployed ERP systems. Contrary to the impression left by well publicized, expensive ERP implementation failures that many people are aware of—Vodaphone, Target Canada, Hershey's and Waste Management, among others—the majority of companies implementing new ERP solutions are, by and large, reaping the benefits that the technology supplies and satisfied with the results.
It's understandable that executives in the C-suite approach upgrading enterprise technology solutions with trepidation. They are complicated to replace or update and business continuity can be affected, something no company wants to endure. After all, an executive's professional credibility is at risk with an embarrassing and expensive failure. It could even result in the loss of a job or reassignment to a less important position within the company.
The results of the survey paint a far different picture. More than 67 percent of the manufacturers and distributors queried reported their implementations as successful or very successful. A miniscule 2 percent described their implementations as "not very successful" and only one of the 315 companies considered its ERP implementation a failure.
Why Tackle Challenging Technology Implementation?
While the reasons many executives are reluctant to embrace change are obvious, the reasons for implementing a new or upgraded technology solution are considerable. A full 82 percent of the companies surveyed achieved ROI within the time forecast. Not only were the more aggressive companies more likely to achieve full ROI, they were likely to do so within the time expected, even though they set the bar higher than the less aggressive companies. We encourage clients to try to achieve ROI within two and a half years, which we identified as the industry average. The ROI comes from a variety of places with reduced IT costs being the highest factor at 40 percent per the survey. It was followed by reduced inventory levels (38 percent), reduced cycle time (35 percent) and reduced headcount dedicated to manual data entry (32 percent).
Today's newer architectures and technologies, particularly those built on microservices, make solutions easier to develop and maintain. Additional savings may be derived by opting for a SaaS model as opposed to the traditional on-premise deployment model. No capital expenditure is required with no need to build and manage a data center. It also reduces the need for dedicated IT staff that can be redirected to other, more strategic positions. With less hardware costs and no up-front license, fee you have lower startup costs. Subscription-based pricing gives the option of accounting for costs as operating expenses rather than capital expenses.
Key Success Factors
The survey uncovered what went right for the majority of the companies and what went wrong for the less than successful efforts. A consistent theme to the responses had more to do with the organization's people and processes than with the software itself. Well executed planning and preparation, as well as visible support from top management, pays off.
While the study did not find a single, overriding factor when unsuccessful implementations were considered, the lack of proper business process re-engineering and a poor evaluation of the solution selection based upon those processes were determined to be primary reasons for lack of success.
Key Takeaways
It is imperative for companies to set goals before embarking on an ERP deployment. Business cost savings and performance improvement are frequently cited as reasons why companies opt for new enterprise technology solutions but if they don't establish specific, quantifiable goals, they are unlikely to achieve as much improvement as is possible with the new solution.
It's critical to be critical during the goals-setting process and determine if you are reaching for the full potential that will provide your company with a competitive edge versus your competitors. If this is a difficult task for internal resources, then engage an independent third party that can identify realistic expectations and outcomes.
My final thought which was proven by the Mint Jutras survey is to be bold, embrace new technology and all the benefits it can bring but plan for the deployment in a thoughtful, strategic fashion. The technology has never been better and in order to ensure continued success in a crowded, challenging marketplace, accept the challenge of leveraging new technology solutions to improve operational efficiency and competitiveness.
Jeff Carr is the CEO and founder of Ultra Consultants.