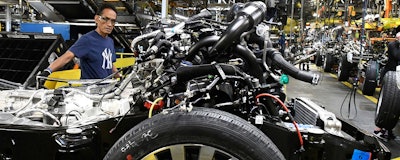 Year-end strategic planning is not what it used to be. The annual exercise has become an outdated, obligatory homage to the bygone era of cyclical goal setting and arbitrary targets. Yet, manufacturers are stuck in this rut. As the calendar year wanes, plant managers and department leads become tethered to their desks, creating reports and forecasts by plucking numbers out of the air to plot on charts. Fortunately, there is a better way.
Defining the Issues
Static views. A modern plant which leverages digital technologies also needs a modern process for creating a highly flexible strategic plan. The old-school approach to setting goals and allocating capital funds is highly restrictive. An annual set-and-done plan does not allow for the continuous evolution and proactive initiatives that modern practices demand. However, conditions change, competitive opportunities arise, and innovations disrupt the market landscape. Manufacturers need to be able to course-correct.
Accuracy and Reliability. When multiple disparate systems are deployed across an organization, data can become distorted or skewed. CFOs are hesitant to trust the analysis and cost justifications provided, fearing one layer of incorrect data will create cascading inaccuracy.
Rapid Change. Agility is essential for keeping pace with the astounding rate of change in manufacturing today. Staying open to breakthrough ideas and being willing to shift priorities are the hallmarks of companies defining Industry 4.0. Plant management is one of the areas in which innovation and digital concepts are most influential, generating meaningful bottom-line impact. This is where automation, robotics, the Internet of Things (IoT), machine learning, and predictive analytics can be transformative. Future innovations, currently unforeseen, may require mid-year action.
Collaboration. Many digital concepts require investments that would fall under plant assets, making the job of the plant manager more strategic than ever. Adding sensors to equipment, automating processes, leveraging robotics, and deploying IoT concepts all require equipment upgrades and IT networks for communicating and monitoring the assets. The combination of smart machines and IT solutions may make budget allocation and stewardship more complicated. Teams will need to collaborate on ideas—plus share the heavy lifting during roll-outs.
Accountability Required. A carefully thought-out plan is required for sizable investments to ensure that the Return on Investment (ROI) is achievable and that steps for supporting and measuring results are put in place. Alignment with corporate goals, the overall intention, and accountability must be documented prior to commitment to new investment.
Limited Resources. The stakes are high as companies and the stakeholders are hungry for growth. However, resources are limited as economic optimism has had a slow reboot, fueled by tax reform, but dampened by uncertainty from tariffs. Plus, existing staffs are stretched thin as the shortage of skilled workers is leaving several positions unfilled in plants. Because of all of this, risk tolerance is low. Manufacturers simply cannot afford any false starts or fruitless detours.
How Can Technology Help the Planning Process?
Fortunately for plant managers, modern Enterprise Asset Management (EAM) solutions, with predictive analytics and asset assessment capabilities, can help forecast future trends, provide data for informed decision-making, and leverage asset assessments to help plan smart capital investments. Most importantly, network connectivity and real-time visibility will help managers stay on top of minute-by-minute issues and assume a proactive approach to preventing downtime.
Holistic View. With fully integrated systems in place, plant managers can be holistic in their strategies and budget recommendations. With easy access to the big-picture view, from Facility Condition Assessment (FCA) to Remaining Useful Life (RUL) and Estimated Replacement Cost of assets, managers can anticipate where critical investments may be required. Thanks to predictive analytics, costs of asset maintenance can also be projected with accuracy, along with necessary resources, such as parts and technicians.
Reliability. Running the entire organization, from financials to asset management, with software from one vendor, will help eliminate the discrepancies that can come from disparate systems. This significantly improves data accuracy, giving top executives the confidence they need to make decisions.
Data-Based Decisions. When strategizing, plant managers must be able to access data to analyze the cost of possible downtime and upgrade-vs-replace decisions. The goal is to determine what investment options will provide the highest level of reliability, and the least amount of disruption to operations. A modern EAM solution can be used to conduct asset assessments to help monitor asset condition, regulations and compliance issues, and the asset's value to the organization. This means more than replacement costs and will require some up-front research and data input. Nevertheless, creating an asset assessment system will provide the insights needed for ongoing proactive decisions and timely attention to issues.
Predictive Analytics. Today, innovative Business Intelligence (BI) solutions contain powerful predictive capabilities, using algorithms and data science to identify patterns in data points and project next likely outcomes. Users can explore "what if" scenarios and obtain forecasts of likely costs and likely demands.
Cash Flow. When the EAM and Enterprise Resource Planning (ERP) or financial solutions are fully integrated, it is easier to analyze financial impact of maintaining the infrastructure and investments in assets. This glimpse of future demands can be juxtaposed against projected cash cycles considering forecasts for customer demand. Executive level decision-makers can prioritize spending and plan major investments to coincide with cashflow availability
Priorities. An asset assessment program allows managers to identify time-sensitive critical issues which are high priority and demand immediate response, including ones which may incur costly fines. Managers should be alert to such issues as: ADA accessibility, building code compliance, OSHA or EPA mandates, and workforce or public safety issues.
Ongoing Course Correction. One of the most important considerations for annual planning is to phase out the annual component and build in frequent check points. Planning for monthly or quarterly reviews of asset conditions and changing market demands, will help the organization stay in-tune to fast changing trends and detect major influencers in a timely manner.
Final Take-Aways
Although managers in plants and factories have been following the annual year-end wrap up and new year planning for decades, the process is largely outdated. Organizations—and their facilities—need to be more responsive to the changes brought about by innovation and digitization. To truly take advantage of new technologies, like IoT and predictive analytics, companies need to build strategic systems that tune in and respond to data early and often. Continuous strategic planning is the new requirement for the digital enterprise. Fortunately, modern EAM solutions support this new demand—and new mindset.