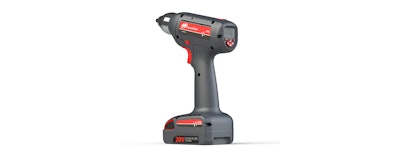 Ergonomics or tool control? Until recently, it's generally been an "either-or" scenario. It's now a common misconception that reduced reaction power tools don't provide the torque control that manufacturers need. Today, assembly tools feature reduced-reaction technology that is highly accurate, easy to implement and is more ergonomic than ever before.
Manufacturers seeking precise tightening capabilities use direct current (DC), or direct drive, tools that have closed-loop, transducerized capabilities because they provide accuracy and traceability. These tools generate a force of energy, or a reaction, into the operators' hands when used because the tools' motor directly connects to the output shaft. The operator then absorbs a "kick-back" from the tool when it delivers torque to the fastener. If the operator does not anticipate the impending torque reaction and is not properly positioned to safely absorb it, the operator can be instantly injured. Also, repeated exposure to the reaction can cause discomfort or chronic injury.
Alternatively, non-DC tools, such as an impact wrench or hydraulic pulse tool, are non-direct drive tools. They don't send nearly as much force back to the operator, but operators typically have far less control of the fastening process and the torque output is not precise. New reduced-reaction technology minimizes the torque reaction the operator experiences from a DC tool, essentially making a direct-drive tool function feel like a non-direct drive tool, while maintaining the highest levels of control.
Achieve Production Quality and Worker Safety without Tradeoffs
More than 100,000 workplace injuries occur in the U.S. manufacturing sector each year. Of those injuries, 32 percent are due to overexertion or repetitive motion, and assembly tools play into those issues.
In any manufacturing environment, quality throughput and worker safety are paramount. A tool that helps to ensure both, without tradeoffs, is a tremendous industry advancement. Reduced-reaction technology is currently an industry-wide trend because worker safety is a key driver to preventing downtime and mitigating rising insurance costs due to worker injuries, which presents a significant value opportunity for manufacturers.
Tools that are simple and maintain high-quality output while reducing the force operators experience significantly improve worker safety and ergonomics. Ingersoll Rand is adding a line of tools to its QX Series that includes Ergonomic Tightening Strategy (ETS) features. ETS technology minimizes the reaction force operators experience when operating the tools, while still providing the benefit of transducerized accuracy and control. The tools have optional wireless capability to report data back to the plant network, so that manufacturers can derive meaningful insights and implement actions to improve quality and increase productivity. The cordless tools are highly flexible and portable, offering all the benefits of a closed-loop "smart" tool without needing to maintain bulky air hoses, mitigating trip hazards in high-traffic assembly areas.
Taking Control Doesn't Have to be Complicated
Depending on the application, manufacturers no longer need to add torque tubes, torque arms or other costly, sometimes custom devices that absorb the torque reaction on behalf of the operator. Instead of trying to determine how to absorb the torque reaction from a highly-controlled tool, reduce the torque reaction to a safe level for the operator with reduced-reaction tools. When evaluating reduced-reaction tools and solutions to create better ergonomics for the assembly operator, it's important for operators to test the tools on their specific applications to assess the performance and determine the set-up requirements. While machines like ergometers can measure actual force reduction, ergonomics can be subjective, so gathering input from operators who will use the tool is imperative.
With a variety of reduced-reaction technologies available, manufacturers should consider the process for implementing the new tools on the factory floor. For example, does integrating the tool require extensive motor control set up, involving algorithms and bringing in or training experts? Or, can operators program the tools themselves, without additional hardware or expensive software? Many tools come ready to plug-and-play with one-click settings pre-programmed for the common needs like "most accurate torque," "highest level of productivity" or "most ergonomic."
Capable Solutions for a Variety of Applications
Manufacturers are not strangers to change, and facilities need capable solutions that allow them constant flexibility. Whether it's adjusting torque or switching fasteners, manufacturers need systems that will grow with their operations. By selecting reduced-reaction tools, the long-term total cost of ownership can be far less than the cost of developing an infrastructure to maintain control of the tightening process with direct drive tools. Reduced-reaction tools allow the manufacturer to be in full control of precise measurements and of the operations of the tool.
It's important to find a solution that meets complex fastening needs and is comfortable for workers in today's manufacturing environment. For example, the motor vehicle industry applies many safety-critical fasteners during the manufacturing process. To properly apply these fasteners, operators must maintain control of the tool applying the fasteners. Until now, manufacturers have been forced to invest in costly, inflexible and monumental tools to meet these requirements. Reduced-reaction technology presents a new wave of capabilities that reduce costs for manufacturers with low impact to the operator and high levels of control.
An investment in tool systems and the infrastructure to run them includes taking a close look at the features of the tools, and what type of capabilities they have. With the right solution, assembly operations can experience control and ergonomics, which helps keep operations moving and production lines running, safely.
Jeff Lowe is the Senior Global Product Manager at Ingersoll Rand Advanced Assembly Power Tools.