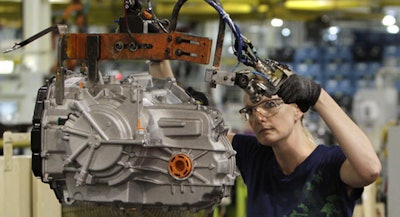 We talk extensively about the "skills gap" facing manufacturing. The problem is this only partially true. Yes, there's a deficit in our skilled trades pipeline, and as employers, educators, and communities, we need to rally around the value of skilled trades and support the growth of this critical workforce — starting in junior high and beyond. Yet, there's another gap that mid-market manufacturing is facing — The Strategic Gap — and it has many facets.
Historically, manufacturing hasn't had to look far for employees. There was always a good pool of skilled labor, at a reasonable price, and they came to companies with minimal effort. The challenge today is that the environment has changed. Unemployment is low, so it's an employee - not an employer market. This means that the up-and-coming workforce has more power, more options, more choices, and can make more demands on employers. Whether you feel this is "right" or not, is immaterial. If you need to get strong talent into your organization, you need to start doing these 5 things immediately:
1) "Selling" Your Organization — You need to sell your organization, the role, and the value of being a part of your company to potential employees. And just like a potential customer, you need to frame your sale around candidate interests and needs. This starts with understanding what potential employees are looking for. Ask them and then develop a strategy to meet those needs. Remember, you are competing for talent.
2) Shore-Up Your HR Skillsets — Is your HR team flipping through resumes and looking for keywords, or evaluating candidates based on their skills? Your HR team needs a clear strategy to effectively assess organizational talent needs, and how they will assess candidates against the skills needed for the role. I recently interviewed a CEO of a construction company, and he noted that they will only consider applicants with 5 specific previous titles in their work history. Titles vary from organization to organization, but skills are the real transferrable value. You need to have a strategy to effectively evaluate and vet candidates skills.
3) Look Outside Your Traditional Recruitment Channels and Approaches — So you have flooded the major internet job boards with job listings, but you're still getting little response or lackluster candidates. Why? Firstly, you're likely not "selling" the position. Is it written in a way that talks about dry duty details and a canned overview of your company? Or does it communicate excitement, and value to the potential employee (such as learning new skills, upward mobility, the impact of their role, etc.)? Plain Jane just doesn't cut it anymore. Secondly, if you're getting little success online, go to where your candidates are. This can range from trade schools to job fairs, to holding your own open house. Again, just like prospecting for customers, you need to prospect for employees - they won't simply just come to you.
4) Look Beyond Your Traditional Competitors — Your competitors are not just other manufacturers. I spoke with the Vice President of Operations at a regional manufacturing company and he noted they struggle to secure talent, but they offer very competitive salaries. While compared to other similar, smaller manufacturing companies in the area, their rates can be up to 12 percent more, but compared to the local Coscto (yes, Costco), they are almost 22 percent lower. In addition, they offer less flexibility in hours, time off and benefits. Even though you might believe a candidate is seeking a position in the manufacturing industry, they might be able to simply find a better paying, more flexible and higher growth job in another industry.
5) Re-Examine Your Expectations — The New York Times reported the story of a manufacturer outside of Milwaukee that had 25 positions open for skilled workers. The manufacturer received more than 1,000 applications for their positions. The company hired the 25 needed, but within a month fired 15 of the employees because of their dissatisfaction with their wages and the company's work rules. The manufacturer's pay rate for a skilled technician with an associate degree was $15 per hour. By comparison, the local McDonald's was paying $14 per hour. Though not everyone is motivated by salary, it's critical to understand what your expectations are as an employer, and if they are reasonable to the market. I spoke with a manufacturing CEO who said he was having a hard time finding welders - yet, he said he was looking for 15 years experience for $14/hr, in addition to someone who would not call in sick, come to work early, and just "keep their head down and stay quiet". No doubt he will be hard-pressed to find talent.
In short, the recruitment and retention game has changed for manufacturing. In this competitive environment, it may be difficult to pay the wages and benefits necessary to attract individuals with the education and skills desired; however, that does not mean that those skills are missing. You need to fill the Strategic Gap if you want to truly overcome today's workforce challenge.
Andrea Belk Olson is the CEO of Pragmadik.