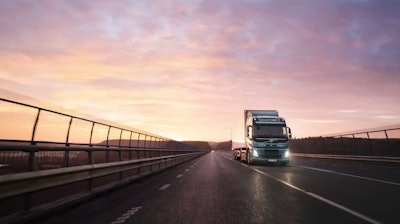 AB Volvo
ZUG, Switzerland — Holcim announced Monday that it will deploy up to 1,000 electric trucks from Volvo by 2030.
Delivery for the first trucks will start in the fourth quarter of 2023.
This is the largest commercial order to date for Volvo electric trucks. Both companies are founding members of the First Movers Coalition (FMC), a coalition of companies that use their purchasing power to create early markets for innovative clean technologies. The deal is part of a wider partnership between Holcim and Volvo Group to deploy electric trucks across Holcim's operations in Europe between now and 2030. Replacing diesel trucks with electric ones will reduce CO2 emissions from road transport by up to 50% per year.
"The net-zero transition requires deep collaboration across value chains," said Holcim Chairman and CEO Jan Jenisch. "We are excited to be partnering with Volvo to decarbonize our European operations' logistics with electric fleets, advancing our goal to reach 30% of zero-emission heavy-duty truck purchases or contracts by 2030."
"Long-term collaboration and a strong commitment to really make a difference are essential for making big CO2 reductions a reality," said Volvo Group President and CEO Martin Lundstedt. "I'm very proud of the partnership we have developed with Holcim, and the results we are achieving together."
The agreement will contribute to the sustainability targets set by both Holcim and Volvo Group. In addition to being members of the FMC, both companies are committed to the Science Based Targets initiative (SBTi), which drives ambitious, science-based climate action in the private sector. In November 2022, Holcim launched its upgraded 2030 climate targets, validated by the Science Based Targets initiative SBTi, in line with its sector's new 1.5°C science-based framework. With these upgraded targets, Holcim confirms its commitment to decarbonize building in line with the most advanced science.