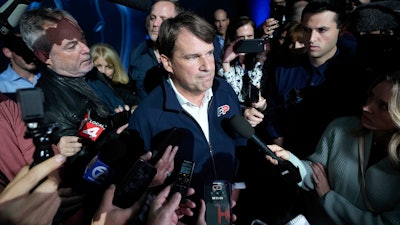 AP Photo/Paul Sancya
With a deadline looming just before midnight Thursday, the United Auto Workers union and Detroit's three automakers, General Motors, Ford and Stellantis, remain far apart in contract talks and the union is preparing to strike.
Read More: UAW May Strike at Small Number of Factories
Here's where each side currently stands.
UAW
The union is demanding a 36% boost in pay. The union initially started out demanding 40% raises over the life of a four-year contract, or 46% when compounded annually.
In addition to general wage increases, the union is seeking restoration of cost-of-living pay raises, an end to varying tiers of wages for factory jobs, a 32-hour week with 40 hours of pay, the restoration of traditional defined-benefit pensions for new hires who now receive only 401(k)-style retirement plans, pension increases for retirees and other items.
The strikes would be targeted to a small number of factories of each automaker. Union President Shawn Fain said the final decision on which plants to strike won't be announced until 10 p.m. Eastern time. He said that it is still possible that all 146,000 UAW members could walk out, but the union will begin by striking at a limited number of plants.
If there's no deal by the end of Thursday, union officials will not bargain on Friday and instead will join workers on picket lines, Fain said.
The Automakers
While the union is currently demanding a 36% boost in pay, the automakers, General Motors, Ford and Stellantis, formerly Fiat Chrysler, have countered with offers that are roughly half of that increase.
Ford chief Jim Farley says his company has made a generous wage offer, eliminated wage tiers, restored cost of living pay increases and increased vacation time. The union disputes his contention that tiers were ended.
On Wednesday, Fain said the companies upped their wage offers, but he still called them inadequate. Ford offered 20% over 4½ years, while GM was at 18% for four years and Stellantis was at 17.5%. The raises barely make up for what he described as minimal raises of the past. In a 2019 agreement the union got 6% pay raises over four years with lump sums in some years as well as profit-sharing checks.
The offers from all three automakers in regard to cost-of-living adjustments are deficient, Fain said, providing little or no protection against inflation.
The companies rejected pay raises for retirees who haven't receive one in over a decade, Fain said, and they are seeking concessions in annual profit-sharing checks, which often are more than $10,000.
Stellantis said it gave the union a third wage-and-benefit offer and is waiting for a response.
GM said that it continues to bargain in good faith, making "additional strong offers."
Farley, the Ford CEO, said that his company has made four "increasingly generous" offers since Aug. 29.
Farley said Ford has raised its wage offer, eliminated wage tiers and shortened from eight years to four years the time it would take hourly workers to reach top scale, and added more time off.