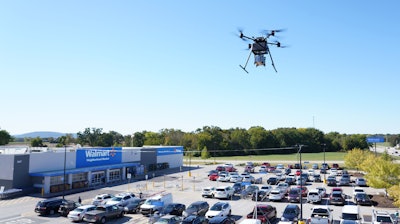 Walmart
Walmart's drone delivery service is now available for select customers in the Phoenix market. The new delivery option will be fulfilled from four stores. The service is also available for select customers in the Dallas-area, where orders will be fulfilled from 11 stores, and for select customers in the Tampa and Orlando areas, where orders will be fulfilled from seven stores.
This marks the first time customers in Arizona, Florida and Texas can take advantage of Walmart's drone delivery, following the retailer's earlier announcement of plans to expand its DroneUp network to reach four million additional households across six states.
"Drone delivery makes it possible for our customers to shop those last-minute or forgotten items with ease, in a package that's frankly really cool. Being on the forefront of that innovation at Walmart is something we're proud of," said Vik Gopalakrishnan, vice president, innovation & automation, Walmart U.S. "It may seem like a futuristic option, but it's giving our customers what they've always wanted, and that's time back to focus on what is most important to them."
Customers living within a mile of a participating store can place orders through between the hours of 8 a.m. - 8 p.m. local time. Drones can deliver more than 10,000 eligible Walmart items up to ten pounds, including fragile items like eggs, in as little as 30 minutes. There are no order minimums but the delivery fee is $3.99.