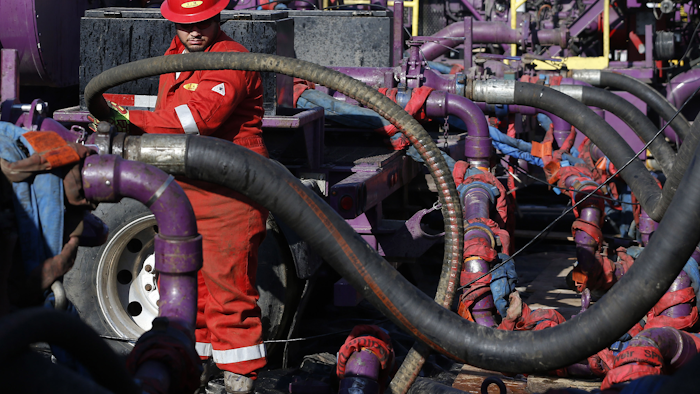 The continued decline in the prices of crude oil is wreaking havoc in the oilfield services sector, where three industry giants have announced thousands of job cuts in recent days.

Last week, Schlumberger Ltd., the world's largest oil drilling services company, announced 9,000 jobs — just over 7 percent of its global workforce — would be cut in response to tumbling oil prices.

On Tuesday, fellow Texas companies Halliburton and Baker Hughes — the second- and third-largest oilfield services companies, respectively — followed suit.

Halliburton officials announced 1,000 jobs in its eastern hemisphere operations had been eliminated in the fourth quarter of 2013, while Baker Hughes — which is in the process of being acquired by Halliburton for some $35 billion — said 7,000 employees, or 11 percent of its workforce, would be laid off.

Halliburton officials, furthermore, said the company expects its first-quarter cuts to mirror those of its competitors.

All three companies had largely weathered a 60 percent drop in the price of oil in recent months, with Schlumberger reporting record revenue in North America in the fourth quarter and both Halliburton and Baker Hughes disclosing higher earnings during that three-month span.

But projections for 2015 suggest the number of oil rigs operating on U.S. soil could fall dramatically as prices for crude oil remain low.

"While market demand ended up being more resilient in the fourth quarter than many had predicted, the recent declines seen in rig counts will clearly affect results in 2015, '' said Baker Hughes CEO Martin Craighead.
---
More from MBTMag.com
From Car Lots To City Budgets, Cheap Oil Means Change
Union To Discuss Pillsbury Plant Set To Close
BP Fights Against Billions In Federal Penalties
Explore more news
here
.