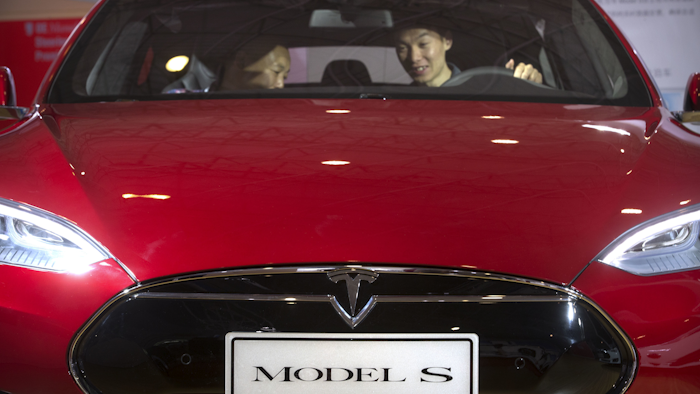 Federal transportation authorities are investigating Tesla's semi-autonomous driving system in the wake of the first U.S. fatality involving a car operating in a self-driving mode.
The Associated Press reports that the National Highway Traffic Safety Administration is looking into the design and performance of Tesla's "autopilot" feature, which automatically keeps its luxury electric vehicles within driving lanes and at safe distances from other vehicles.
The NHTSA on Thursday announced that Ohio technology company founder and former Navy SEAL Joshua D. Brown was killed in early May in an accident in Florida.
The agency and automaker said that Brown's Model S sedan did not automatically brake when it failed to distinguish between the sky and a partially white tractor-trailer turning in front of him.
The vehicle's roof was completely shorn off and continued for hundreds of feet following the crash. Frank Baressi, the truck's driver, told the AP that "he went so fast through my trailer I didn't see him."
Tesla rolled out its autopilot system last year and almost immediately prompted reports of hiccups with the technology.
The automaker stressed that drivers should keep their hands on the wheel at all times and, in a statement following the NHTSA announcement, added that the vehicle's software alerts the driver and gradually slows down if their hands are not detected.
Tesla called Brown "a friend to Tesla and the broader EV community" and said that it was "beyond saddened," but said that it was "the first known fatality in just over 130 million miles where autopilot was activated."
"It is important to emphasize that the NHTSA action is simply a preliminary evaluation to determine whether the system worked according to expectations," the company said.
The NHTSA probe comes as federal regulators struggle to adapt conventional auto safety regulations to rapidly advancing autonomous capabilities.